Praise for delivering supermarkets on schedule, despite pandemic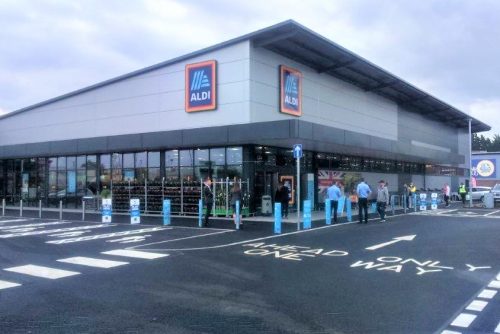 The Manchester team at architects The Harris Partnership (THP) has managed to deliver three Aldi stores for the North West, despite the impact of the coronavirus pandemic.
THP holds the largest portfolio of work nationally for the discount food store chain, which has been built up over a 20-year relationship – this region is known as the Neston region.
Of the three new stores, in Whitchurch, Chester and Crewe, two are bespoke builds, taking into consideration their unique environmental locations, receiving input from THP's sister company, Vector Design Concepts to assist selling the schemes through the use of high-quality accurate CGI imagery to work alongside coloured plans and elevations.
Due to its proximity to the Shropshire Union Canal and surrounding open space, the Whitchurch store, which took five years to come to fruition, was sympathetically designed to include Western Red Cedar cladding to help blend harmoniously into its surroundings.
This was used for the whole of the rear of the building, which overlooks the canal, and as a key feature at the front of the store.
Providing jobs for around 50 people, this 1,900 sq m building is set in a 9,000 sq. m site, and ALDI opened THP believes it is one of the best looking sites it has delivered for Aldi.
Aldi Crewe is another 1,900 sq m building set in a large 18,000 sq m landscaped site on University Way, adjacent to a large woodland area, so a habitat management plan was set in place to protect and care for the local environment and wildlife.
There is also a mitigation licence granted for Great Crested Newts (GCN).
A landscaped area between the rear of the store has been created to form a screen from the adjacent properties and includes a large pond and hibernacula, to provide shelter during colder months, as part of the GCN mitigation, in addition to various sized sparrow and swift bird boxes, plus gaps in the fence to allow amphibians and hedgehogs to get through.
The store itself has been designed with a mixture of timber, cladding, glazing and brickwork to blend well into the extensively landscaped site.
THP said it was delighted to assist in achieving the original opening date set for completion, despite COVID-19.
At the 7,000 sq m Chester site at Bumpers Lane, where the old store was demolished to make way for the new store, THP was praised for continuing the development to programme, despite the COVID-19 pandemic.
Mark Herring, THP associate and senior architectural technologist on the Aldi projects, said: "We have kept working throughout lockdown and it's so rewarding to work on these schemes for Aldi which have generated real employment for around 150 people, in a difficult climate.
"Each scheme presented its own challenges and we are proud that we delivered the required solutions to ensure that the original opening dates were met."