Retailer opens first of two new Greater Manchester stores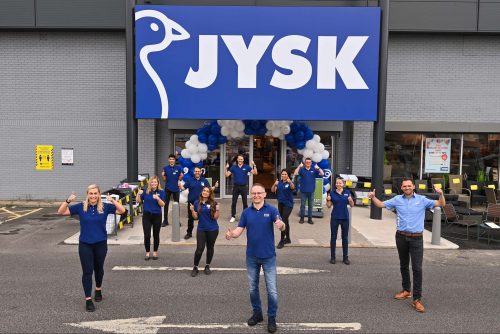 X

Register for free to receive latest news stories direct to your inbox
Register
JYSK, the Danish retailer operating globally, has opened its 22nd store in the UK today (June 10), with doors opening to the public for the first time at its new 1,200 sq m site in Bury, Greater Manchester.
Situated in Angouleme Retail Park, this is the brand's third store in the Greater Manchester region, with a fourth in Stockport due to open next month, creating around 25 jobs, and marks the latest development in the company's ambitious plans for expansion in 2021.
Bury store manager, Kamil Filipek, said: "The Greater Manchester region has definitely been hit with the 'JYSK fever.
"The demand for creating a Scandi aesthetic at home with affordable items in neutral palettes that won't go out of style has proven a big hit here, and nationwide, too.
"It's a very exciting time for us to be opening this new store. It's been such a challenging year, especially for the retail sector, but the home improvements and interiors market seems to be going from strength to strength."
Kamil added: "Bury shoppers are excited to be back in stores once again and we are looking forward to welcoming them in for all their home interiors needs."
JYSK has also announced that the new Bury store, along with other nearby stores in Oldham, Bolton and the soon-to-launch Stockport site, will be rolling out a trial in partnership with the Greater Manchester Mayor's Charity to help address the issue of rough sleeping and homelessness across the city region.
Using contactless donation points in-store, customers can opt to make a small donation when paying for their JYSK items to pledge support towards the cause.
JYSK's sales and marketing manager, UK and Ireland, Jenny Johnston, said: "Everyone deserves the right to a home. As a homeware retailer, we and our customers truly understand and value the gratification and comfort that comes with being able to transform our houses into homes.
"Enormous headway has been made so far in helping to reduce the numbers of those sleeping rough within the city and its suburbs. We are delighted to be able to support the organisation in its efforts to do more to address the issue and enable more people to transition safely to secure accommodation".
Vanessa Haworth, head of Greater Manchester Mayor's Charity, said: "We are thrilled to have the support of JYSK who will be installing contactless donation points in four of their stores within the region. Each device can generate a significant amount of donations in even a short amount time and JYSK and its customers could really have a substantial impact on helping us to reduce homelessness in Greater Manchester.
"All donations raised will be invested directly into helping more local people in need access safe and secure housing which can provide the foundations for a better future."