Work completes at Clitheroe's Old Cotton Mill transformation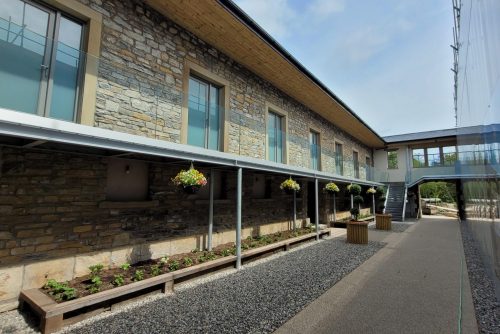 Work has completed on the first phase of The Old Cotton Mill, a new residential scheme on Primrose Road, Clitheroe, with all the seven town houses already sold.
The second phase is now under way and will deliver a further 18 new apartments in the Mill, formerly known as Lodematic Works.
Local developer, Rob Evans of Ribble Valley Property Development, has transformed the disused mill and adjacent buildings into new properties.
Residents will be able to enjoy the neighbouring Primrose Lodge and Greenway Nature Project, while the town's shops, bars and other amenities are just a short stroll away.
Having acquired the 230-year old mill site in 2019, the developer worked tirelessly to breathe new life into the then-derelict site, before embarking on a complex redevelopment project.
The business was advised by law firm, JMW Solicitors, and commercial broker 2XLCommercial – 2XL has secured development finance from both Lloyds Bank and Assetz Capital for the first and second phases, respectively.
JMW Solicitors progressed both complex development refinances to successful completion and is now acting on the sale of the townhouse units at phase one.
Rob said: "The Old Cotton Mill was a challenging project, working around the confines of the existing site and buildings while maximising the original features.
"We've worked hard to create attractive, spacious new homes with a great communal feel and we look forward to moving ahead with the second phase of the development."
Julian Rogozinski, partner at JMW Solicitors, said: "The Cotton Mill is an impressive development that has transformed a neglected, disused site into much needed new homes while keeping all the character of the old buildings.
"We're very pleased to have been able to support with legal matters in securing the necessary finance packages to make the project happen, and we look forward to working alongside Rob and his team on the next phase of the development."
Tom Bamber, director at 2XL Commercial, said: "It has been a real pleasure to work closely with Rob since 2019, delivering the required funding for The Cotton Mill – Rob's meticulous attention to detail and determination has produced first class homes."