Controversial 'looming tombstone' student block back again – with moves to approve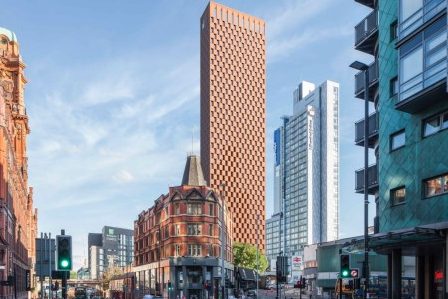 X

Register for free to receive latest news stories direct to your inbox
Register
A controversial Manchester student accommodation scheme described as a "looming tomb stone" and deferred by the city council's planning committee in January this year, is back for consideration – and recommended for approval by planning officers.
The £130m 55-storey tower, near Oxford Road train station, was deferred by the committee due to a number of concerns and objections among councillors and existing residents near the planned scheme.
Fourteen councillors voted to deny approval, and one abstained, despite planning officers indicating they were "minded to approve" it. Councillors voted that a site visit should take place before reconsidering the proposal further.
They organised a visit ahead of the February planning committee meeting, but the scheme was withdrawn by the applicant.
Now it is back on next week's committee agenda and planning officers have recommended "minded to approve subject to the signing of a legal agreement in relation to infrastructure improvements".
The skyscraper, in Hulme Street, will offer high-end student accommodation, comprising 853 units, as well as SME incubator space, as proposed by applicant GMS (Parking).
It will overlook Oxford Road Station and will be one of the tallest buildings in the city.
The scheme – part 55-, part 11-storey, part four-storey mixed-use building – will provide 853 student bed spaces.
Four rounds of neighbour notifications took place as part of the process. The first generated objections from the nearby Macintosh Village Management Company supported by 216 individual residents, as well as 20 individual objections.
The second produced 30 individual objections, the third resulted in objections from Macintosh Village Management Company, supported by 425 individual residents, and the fourth notification resulted in objections, again from the management company and one individual objection, plus one letter of support.
Councillors Marcus Johns and William Jevons have objected to the proposal, while Manchester Metropolitan University supports the proposal.
Residents claimed the scheme would result in a large influx of students and potential for an increase in crime rates, while there were also claims that the developer's estimate of a three-year build programme would, in fact, more likely be six years.
In the January meeting, Cllr Jevons said the height, design and increase in student numbers would alter the nature of the community, adding that the University of Manchester does not support the proposals and, had even highlighted that its students could not afford to live in the development, which he called a "looming tombstone".
However, the latest council notes reveal that officers believe the scheme "would help realise regeneration benefits and meet demand for student accommodation in a sustainable location".
They add: "This investment also comes at a critical time as the city recovers from the economic effects of the COVID-19 pandemic.
"Careful consideration has been given to the impact of the development on the local area. There would inevitably be impacts in terms of the use and the scale of the building on light, noise, air quality, water management or wind conditions. However, none of these impacts would be unusual in a city centre context and mitigation measures are in place to help to address them."