First images of The Stack, as Kampus development evolves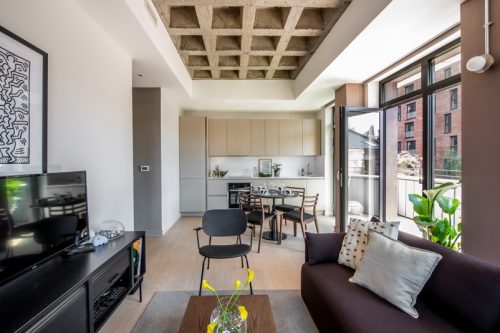 First look images show the latest building to complete at Kampus, Manchester's new £250m garden neighbourhood by Capital&Centric and HBD.
The iconic brutalist 60s tower, known as The Stack, was once a business school within the Aytoun Street campus of Manchester Metropolitan University.
It has been transformed into 123 one- and two-bed apartments with strong geometric lines, exposed concrete and original 'waffle' ceilings.
With an industrial, mid-century feel, interiors have been crafted by Dezeen award winning Youth Studio.
The Stack will also feature the brand new Kampus gym, thought to be one of the largest build-to-rent gyms in the city.
Located in the heart of Manchester city centre, next to the canal and just minutes from Piccadilly Station, Kampus is a collection of old and new buildings, creating a melting pot of architectural styles.
The Stack sits alongside the already lived-in North Block, sister building South Block and two beautiful Victorian shipping warehouses, Minto & Turner and Minshull House, all of which are set to fully open over the next three months.
The Kampus gardens and Bungalow are the central feature of the community and are permanently open to the public, with the Bungalow operating as a village hall for pop-ups and community groups.
The neighbourhood is alive with events and homegrown independent bars, restaurants, cafés and retail from brands including General Stores, Common & Co/Cornerstone and Bread Flower.
Adam Higgins, co-founder at Capital&Centric, said: "Kampus has got such a rich cultural heritage which sets it apart from a lot of other build-to-rent developments.
"With The Stack it would have been easier, and probably cheaper, to just tear it down, but we didn't want to lose that piece of history and now Mancunians can live in their old university building.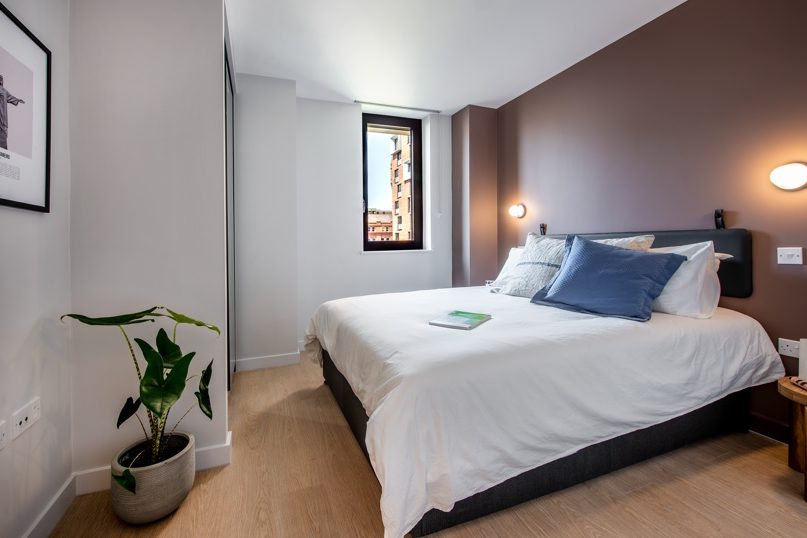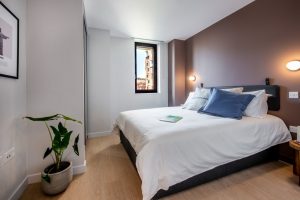 "It also had some amazing design features that we kept, like the waffle ceilings, which give the apartments tons of character. The Kampus neighbourhood is really coming to life, and I can't think of anything else like it in Manchester."
Kampus residents will have access to a brand new gym, with free weights, cardio and core equipment, a yoga studio and PT sessions. Along with super-fast broadband, a resident's app and 24-hour concierge, other amenities include a private cinema, lounge, dining room and a number of terraces.