Dawsons Music sold out of administration again with the loss of 48 jobs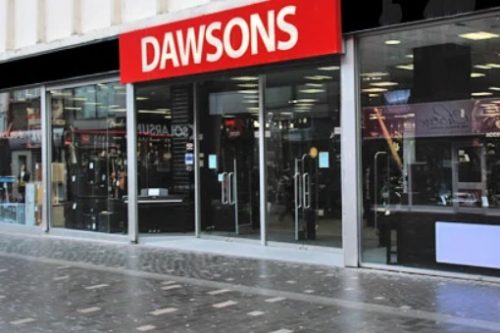 North West music store and retailer Dawsons Music & Sounds has been sold out of administration for the second time in 16 months – and almost 50 staff have been made redundant.
The historic and iconic music retail brand, which was founded in Warrington in 1898, operated online and via six retail stores in Manchester, Liverpool, Chester, Leeds, Reading and Belfast.
Following financial difficulties brought on by the pandemic, the retailer fell into administration in May 2020 and the business was sold to the new owners Andrew Oliver and his wife Karen Oliver and it continued to trade under a new company, Dawsons Music & Sound Ltd.
Last week (1 September 2021)  Neil Morley and Howard Smith, from Interpath Advisory, formerly KPMG, were appointed joint administrators to Dawsons Music & Sound Ltd.
Immediately following their appointment, the joint administrators sold part of the company's business and assets to the Oliver's existing company, Arranged Musical Options Ltd.
The business will continue to trade from one store in Chester, as well as retaining its warehouse facility in Haydock.
A total of 18 members of staff have transferred to Arranged Musical Options Ltd as part of the sale.
Regrettably, due to the closure of its remaining operations, 48 members of staff have been made redundant on the appointment of the joint administrators.
As a matter of priority, the joint administrators said they will be providing these employees with the support and information they need to be able to make claims from the Redundancy Payments Office.
Neil Morley, director at Interpath and joint administrator, said: "It's been a really challenging period for Dawsons.
"The company had continued to experience tough trading conditions, exacerbated by the impact of COVID-19 on high street footfall, even following the easing of lockdown restrictions.
"Additionally, the company was also experiencing supply issues due to the global shortage of silicone chips and the challenges facing international freight and distribution channels.
"Against this backdrop, we're pleased to have been able to secure the sale of part of the business to Arranged Musical Options Ltd, which will ensure the Dawsons brand continues to trade a retail store and retains an online presence."
For decades Dawsons had become the place to go for young musicians getting their first instruments in towns across the North West, but it had struggled to be profitable in recent years.
In the three years up to 2016 it banked profits of £700,000 but the market became increasingly competitive. Despite record sales of £22.2m in 2018 the business recorded a pre-tax loss of more than £400,000.
A change of ownership in December 2018, when the Briggs family sold out after nearly 40 years' ownership to turnaround specialist SKG Capital, did not help change its fortunes.
It was not helped by the loss of continued supply from a major supplier, which impacted stock availability, and an issue with its online sales platform which caused revenue from this channel to fall.
Lockdown in March last year saw its six stores all close which cut its revenues in half overnight.
SKG was not prepared to put more money in to the business and administrators were appointed in May 2020 when a sale process failed to find a buyer quickly.