Expansion planned for Merseyside health specialist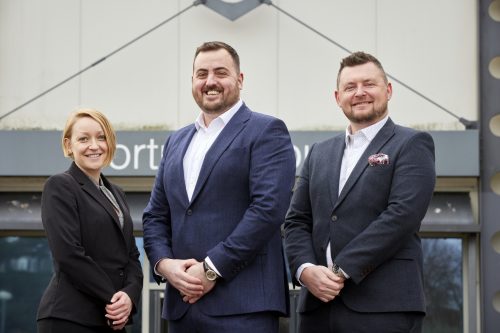 A Liverpool health specialist is aiming for major expansion this year, backed by a recruitment drive and a six-figure investment strategy.
PAM Health, based on Sefton Business Park in Aintree, Merseyside, is the muscular skeletal retail division of Warrington-based preventative healthcare specialist PAM Group.
The Aintree operation sells exercise, fitness, sports, ergonomic, physiotherapy and rehabilitation equipment to consumers as well as to businesses, professional practitioners and sports clubs.
It includes 66Fit and Physio Supplies, which were both acquired from Whiteley Healthcare, a provider of physiotherapy and healthcare products based in Australia and New Zealand.
The 66Fit business sells exercise, fitness and rehabilitation equipment such as mats, weights, balls, aerobic steps, swimming aids, massage therapy and balance training products, supports and braces.
Physio Supplies is a specialist provider of sports, physiotherapy and rehabilitation equipment and supplies professionals such as physiotherapists, healthcare providers and sports clubs with products including orthotics, tapes, bandages, supports, grips, cushions, rolls, pillows and practice essentials such as couches and furniture.
Having achieved revenues of £2m in 2021, PAM Health aims to treble in size this year under the leadership of managing director James Langton, who took up his newly-created role in October, with more than 15 years' management experience.
He has now recruited David Renaud as sales director and Helen Mavrozumi as head of marketing, along with Connor Chapman as a digital marketing executive, Owen Robinson and Aimee Pye as digital marketing apprentices, warehouse operative Mitch Cottle, purchasing executive Megan Hendra and warehouse manager Tony Newsome.
There are plans for further recruitment, in addition to the current 16-strong headcount.
Following a £130,000 investment in IT systems at its 30,000 sq ft warehouse, PAM Health now aims to expand through organic growth and, potentially, acquisitions.
This is based on an increase in demand for its equipment as people work from home and develop more neurodiversity needs.
James Langton said: "We have ambitious plans to grow our market share and to do this we need to have the right infrastructure and expertise in place.
"David has extensive senior sales and management experience and Helen is an experienced marketing manager in the SME and start-up sectors. They will prove invaluable additions as we scale up PAM Health."
He added: "Alongside them, we are proud to be providing opportunities for talented local young graduates and apprentices in our marketing, warehousing, customer service and sales operations."
PAM Group employs nearly 700 staff and is one of the largest occupational health, employee assistance programme and wellbeing providers in the UK.
It offers a range of integrated services to public and private sector clients, supporting more than 600,000 staff at in excess of 1,000 businesses and organisations.
The group, in total, is looking to double turnover to £80m over the next few years through continued organic growth and acquisitions. Last year the company received backing from private equity firm LDC to support its growth and the launch of new products and services.