Housebuilder's specially adapted homes a 'labour of love' for CEO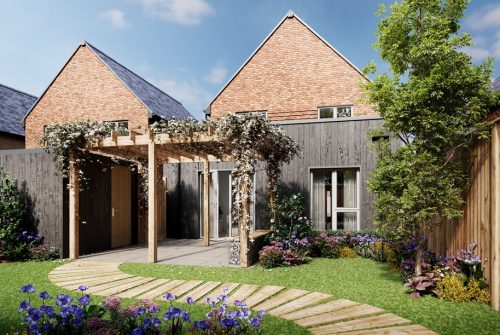 Housebuilder, Northstone, has unveiled its first – of what it plans will be many – adapted new-build home aimed at families with disabilities, or care-dependent family members.
The property, named 'Jacob's Place' in Westhoughton, Bolton, is a labour of love for the team, particularly chief executive Phil Wilson.
It is a touching tribute to his late son, who needed an accessible home to make his life as comfortable as possible.
The home was inspired by the BBC's popular DIY SOS makeover show, which sees an army of volunteers overhaul an existing property for a family in need.
Phil said: "My son Jacob was born in 1996. The effects of his Cerebral Palsy were, to say the least, severe. Sadly, we said goodbye when he was seven.
"Twenty years later, I was watching an episode of DIY SOS and it made the time that had passed seem like nothing. I admit, I cried my eyes out watching another family with similar issues go through the same struggles we did, without the finances to change their situation."
He added: "This a major moment for both Northstone and me personally. I know from first-hand experience how difficult life can be for families struggling in properties that just don't meet their often complex needs. You can feel trapped – the exact opposite of what home should feel like.
"Such families are so rarely catered for in new-build developments and we thought it was about time we did something about it. Inspired by the heroic efforts on DIY SOS, we set out to design a new build home that both provides independence for people who need additional support, but helps keep the family together."
Jacob's Place is set to be completed this summer at Northstone's Silkash site in Westhoughton, with plans to feature at least one such home where possible at further communities. They include sites in Wigan and Ellesmere Port – set to launch in September – and further locations in Bolton.
Northstone's design approach has seen a wooden-clad 'pod' added to an existing family home, preserving the generous living space while making room for a further downstairs bedroom, easily adaptable for those with assisted living requirements.
The approach doesn't compromise the living space, with the simple design meaning other existing Northstone properties could be easily adapted in the same way.
Phil Wilson said: "Our mission at Northstone is to challenge perceptions of new-builds with really thoughtful design … that includes creating communities that work for a whole spectrum of people.
"We're beyond proud to launch Jacob's Place in Bolton, and can't wait to reveal the first of several such properties we'll deliver. It'll certainly be an emotional moment for us all."
Northstone, part of Peel L&P, is in conversations with local housing associations, alongside support from Bolton Council, to provide the homes at an affordable rent to families that need an adapted home for assisted living.
The house is fully accessible, and includes a spacious, open-plan kitchen and living area, as well as family garden.
Northstone said it hopes to make similar properties through a range of tenures such as open market sale, shared ownership, private rent, and affordable rent, where possible.
The Silkash community features 150 new homes, with only the final few homes available for sale.