Approval recommended for Liverpool's first operational net zero carbon building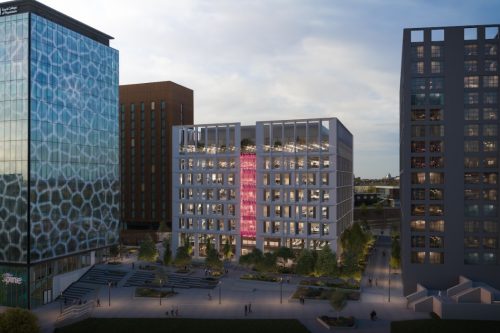 Liverpool City Council planning committee has been recommended to approve an application to build a new eight-storey office block in the city centre's Paddington Village development.
The committee will meet next Tuesday, November 1, to consider a range of submissions, including the 'HEMISPHERE' scheme, which would be the city's first operational net zero carbon building.
The application was first submitted in July this year by Sciontec Developments, which said the site could support up to 800 jobs.
Located on Paddington Village, in the Knowledge Quarter Liverpool (KQ Liverpool) Innovation District, HEMISPHERE will be the first new build project by Sciontec, the commercial spin-out of KQ Liverpool.
The overall scheme would have a floorspace of 15,995 sq m, ranging from two basement levels, a ground floor entrance, and office space on floors one to seven.
Consultation was held previously and one letter was received from Cllr Nick Small, saying he strongly supports the proposal, which will boost life sciences in Liverpool City Region, helping to create high value, knowledge-intensive jobs.
Council notes to the committee say: "The proposal would result in the creation of an attractive and distinctive, high quality development which would provide important facilities for Paddington Village, in accordance with the wider aspirations of the Paddington Village Regeneration Framework.
"The development's design, associated highway works, servicing and access arrangements, inclusive provision for all building users and associated mitigation measures, would satisfactorily protect highway safety, the amenity of existing and future surrounding occupiers and the character of the area."
The interim chief planning officer recommends the application be granted, subject to conditions.
Another scheme earmarked for approval is a proposal from Hot Water Comedy Club to convert a warehousing plot, in Blackstock Street, close to the city centre, into a multipurpose venue, comprising four comedy and live music performance areas, a food market, four bars, recording studios and two rooftop terraces.
The site is a former transport depot and comprises a number of former warehouse buildings covering an irregular-shaped plot.
The surrounding area is generally low-rise buildings and is industrial in character.
Proposals include a 563-capacity theatre on the ground floor, two more theatre areas on the second floor capable of holding 250, and 170 people, respectively, as well as a podcast theatre area, and an external roof terrace area, including seating provision.
Following a consultation period no objections have been received.
The planning notes state: "It is considered that the proposal offers a scheme that would lead to the reuse of a vacant building, improving the appearance of the built environment … and as such would be a regeneration benefit to the area."