Developer sees potential in Wrexham after Hollywood stars' football club takeover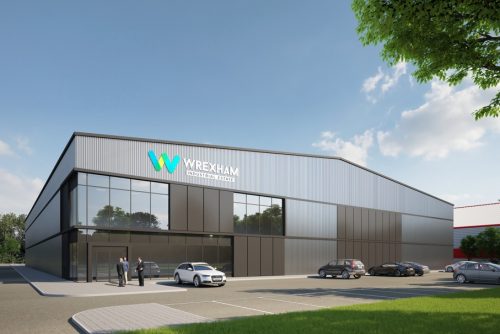 A Chorley-based property and asset management company has bought an additional 56 acres of land at Wrexham Industrial Estate, fuelled by the arrival of Hollywood film stars at the city's football club.
FI Real Estate Management (FIREM) is already the largest landowner at the location, and the development will be FIREM's 11th at the estate, taking its investment to more than £136m.
FIREM's founder and managing director, Tim Knowles, said the decision to expand the Wrexham portfolio of assets to 2.8 million sq ft reflects a surge in demand from companies keen to be based in the Wrexham area.
He said the city has benefited from the 'feel-good factor' and publicity generated by the purchase of Wrexham AFC by Hollywood actors Ryan Reynolds and Rob McElhenney.
On Sunday, the club's sell-out FA Cup fourth round match against Sheffield United will be televised live by the BBC and Knowles said the national exposure was good for the whole area.
He said: "When our peers were looking towards the big cities in the South for development opportunities we kept our focus on Wrexham, having purchased our first piece of land here in 2005.
"Of course, our plans are a tactical move based on the huge demand our new build industrial assets continue to generate.
"The city's prominent position, strategic connectivity, highly skilled workforce and future talent emerging from Glyndwr University, is attracting a great deal of attention from logistics and warehousing companies in the UK and beyond.
"Add to this the high quality and energy efficiency of our new build space and it means the speculated slowdown in the industrial sector, following two years of growth, is yet to reach Wrexham.
"I wish Phil Parkinson and his team the best of luck with the FA Cup draw on Saturday, but win or lose, there's never been a more exciting time to be in Wrexham than 2023."
FIREM, which manages assets totalling more than £1bn, will now commence the planning application process to create an additional 400,000 sq ft of industrial space for the influx of businesses looking to capitalise on Wrexham's economic resurgence.
Construction is set to commence on two new build sites this year, with three having completed in 2022. Two of the completed new sites are already fully let and logistics specialists, Gorton Brothers, and multinational furniture company, Howdens Joinery, moved into FIREM units in December.
Future plans comprise a total of 2.2 million sq ft of new build commercial space including a detailed planning application for a single 150,000 sq ft unit of Clywedog Road South.
FIREM is also proposing to redevelop the Bridgeway Centre on Bridge Road to create new industrial units ranging from 900 sq ft to 8,400 sq ft for small and large businesses.
FIREM's UK-wide industrial estate comprises 91 sites, part of a 10 million sq ft portfolio. In 2023 the developer expects to break ground on 19 new sites, part of a five million sq ft pipeline over the next four years.