Manchester development recognised for pioneering sustainability qualities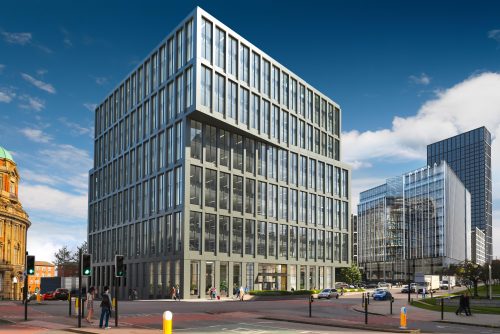 A NOMA development has been officially confirmed as one of the UK's most sustainable office buildings.
The 4 Angel Square site is the first in central Manchester to achieve the industry-leading NABERS Design for Performance Target Rating of Five Stars.
The 200,000 sq ft building designed by SimpsonHaugh is set for completion this spring and has been rigorously assessed.
Run by the Building Research Establishment (BRE), NABERS UK is a well established system for rating the energy efficiency of office buildings across England, Wales, Scotland and Northern Ireland, and is fast becoming the gold standard for assessing operational efficiency across the UK.
It provides a benchmark for a building's energy efficiency, enabling fair comparison across the industry and involves extensive modelling to mitigate the performance gap between predicted energy consumption and the energy used in practice.
Spanning 11 storeys, this latest certification reinforces NOMA's claim that 4 Angel Square will be the most sustainable and smart building in Manchester.
It is set to become one of the first operationally Net Zero office building in the North West market and has already been accredited with a BREEAM Outstanding in design and is targeting an EPC A rating.
It will utilise an energy-efficient heating system of air source heat pumps and benefit from energy generated from the building's photovoltaic panels. Additional features include 212 cycling spaces, 56 parking spaces of which 26 will have electric charging points, a 10th-floor terrace and will be a smart-enabled building.
It is part of a bigger sustainability story in Manchester's city centre as NOMA looks to deliver the largest and most sustainable speculative masterplans in the area. Plans are well under way for the future next-generation buildings, 2 and 3 Angel Square, which will join 1 and 4 Angel Square in the 20-acre neighbourhood.
This is not the first time developer MEPC has achieved a NABERS Design for Performance Target Rating of Five Stars. Its recent development in Leeds – 11 and 12 Wellington Place – became the first office building outside London to achieve the certification.
Dan Hyde, development director at real estate asset manager and developer MEPC, said: "With 4 Angel Square, we've really set the benchmark for energy-efficient, smart-enabled, high quality office space and being accredited as the first building in central Manchester to achieve the industry leading NABARS standard is testament to that.
"4 Angel Square is a building that is truly sustainable for today and tomorrow and it will help occupiers attract the next generation of talent. The building will deliver lower occupational costs, as well as future-proofed, cutting edge design.
"Given the completion of the building is fast approaching, the first half of 2023 promises to be an exciting time as we build out our plans for 4 Angel Square and the wider NOMA estate."