Manchester office investment dominates 'Big Six' cities in strong end to 2022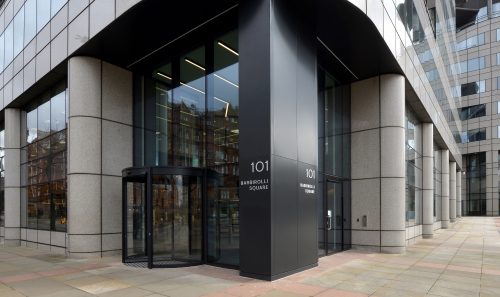 Manchester emerged as the most active for office investment among the 'Big Six' cities around the UK last year.
New research from property services firm, JLL, showed that £421m was transacted across the city in 2022.
The 'Big Six' research, which tracks office take-up, vacancy rates and grade A rental growth across Birmingham, Bristol, Edinburgh, Glasgow, Leeds and Manchester, showed 426,900 sq ft was transacted in the final quarter, helping to boost the year's activity to meet the city's 10-year average.
That meant it finished three per cent up on 2021 but below the five and 10-year averages.
Leasing activity increased across five of the six markets analysed, with Bristol the only city recording a decline of a third compared with the first half of the year.
Manchester accounted for 26% of the 142 deals completed nationally last year, according to JLL's research.
Professional services was the biggest driver of activity in the city, accounting for 24% of activity, followed by TMT and public administration, with 21% and 20.5%, respectively.
Prime rents increased by six per cent across the regions, with Bristol and Leeds seeing the strongest annual growth of 10.4% and 9.1%, respectively.
The average prime rent across the six markets stood at just over £39 per sq ft, with only Leeds and Glasgow recording prime rents below this figure. Prime rents in both cities averaged £36 per sq ft by the year's end.
Investment activity totalled £1.6bn in 2022 – a nine per cent decrease on 2021's £1.8bn and a 17% decline on the 10-year average.
Big six office investment in the second half of the year totalled £789m, a 28% decrease compared with the same period in 2021 and a 27% decrease on the H2 10-year average.
Stephen Hogg, head of the North West at JLL, said: "It's no wonder that Manchester was the most active for investment of the regional big six markets.
"It continues to appeal to businesses across all sectors, and saw the biggest deal of the final quarter at Barbirolli Square. But, as occupiers continue to prioritise Grade A credentials, we expect to see the pressure pile on an already well-populated prime office space market, pushing rents up even further."
Elaine Rossall, head of UK offices research at JLL, said: "An overall pick up in activity across our six markets is heartening to see but to be trending below five and 10-year averages suggests confidence hasn't picked up to the extent we would have liked just yet.
"What's needed now is economic stability and a clear plan for growth for the regions, which, in turn, will spur investors into longer-term spending on our cities.
"Our big six cities have bounced back well from the pandemic and will be crucial to the broader economic recovery – what they need now is the support and stability needed to fulfil their potential."