Refurbished Wirral venue, The Manor, opens to wide acclaim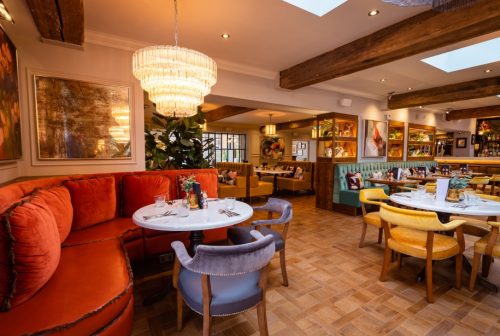 Chester-based Nelson Hotels & Inns has opened its fifth venue, The Manor, at Greasby, Wirral, following an extensive refurbishment.
The scheme includes a restaurant and luxury wedding barn that can host up to 80 seated guests.
The 17 th century Grade II-listed Manor has been brought back to life by the group with its vast history in mind. The Inns team has created a multi-use space, catering for all tastes.
The restaurant offers an extensive all-day menu, with a contemporary take on British classics and gastro-pub influences, as well as influences from Asian fusion cuisine.
Guests can choose from 30-day aged steaks, fresh pizzas and flatbreads made in the kitchen's wood stone oven, as well as a variety of main courses, including table nibbles and small plates to a weekday afternoon tea and morning coffee menu.
A wrap-around bar has become the main focal point of the restaurant, with surrounding bright and luxe interiors found throughout the rest of the venue. Floor-to-
ceiling windows provide impressive natural light throughout, with the main dining space also given a front-row seat to the open state-of-the-art kitchen.
A brand-new garden room conservatory has also been added to the original building, fit with large bi-folding doors that overlook the venue's outdoor seating, offering a location for al fresco dining in the summer months.
In The Barn at The Manor impressive timber frames sit alongside beaded chandeliers with bespoke antique décor to create a unique destination for all occasions.
James McAdam, general manager of The Manor at Greasby, said: "Our opening weekend has been an absolute success. We knew how anticipated our launch was set to be from the local area, but we couldn't be happier with the response we've had so far.
"The Manor is a great addition to the hospitality and events offering on the Wirral and my team and I are now really looking forward to seeing the venue flourish."
The site now joins Nelson Hotels & Inns venues such as the award-winning Grosvenor Pulford Hotel & Spa, as well as acclaimed gastropubs The Fishpool Inn, The Bear's Paw and The Pheasant Inn.
Andrew Nelson, director at Nelson Hotels & Inns, said: "We are so proud to have seen The Manor finally open its doors and receive the astounding response it has already. It was wonderful to meet locals who have been coming to the venue over the years and who have loved seeing the transformed space.
"We've created a homely, yet elevated restaurant with a unique menu that we think will attract a large regional footfall beyond Merseyside. We have every faith in our standout restaurant team, led by James and executive chef, Andrei Costea, to make this happen and we're looking forward to a very special summer on The Wirral."