Luxury yacht builder to be sold to US investors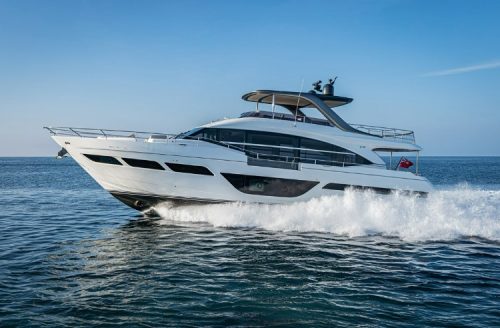 Luxury boat builder Princess Yachts could be sold to private equity backers 15 years after it last changed hands, according to reports.
According to Sky News KPS Capital Partners, a US-headquartered investor which specialises in owning manufacturing businesses is looking at buying the business.
The report claims a deal could be struck by the end of this week.
Princess Yachts is one of Plymouth's biggest employers and is a global player in the luxury boat market.
The company was launched almost 60 years ago and became Princess Yachts International in 2001.
In June 2008  a 75 per cent stake in the business was sold to French businessman Bernard Arnault's investment group, L Capital part of the LVHM Group.
The LVMH group includes over 60 international luxury brands, including: Louis Vuitton, Christian Dior, Fendi, De Beers, Moët & Chandon, Veuve Clicquot and Krug.
Princess Yachts operates in 119 countries and employs over 3,200 people worldwide. Its shipyards in Plymouth cover a combined area of over one million square feet and employ around 3,000 people.
Previous investments  by KPS include TaylorMade an international golf equipment maker.
Princess Yachts was put up for sale last year by its owner. The news came as yachts owned by Russian millionaires were being seized around the world.
At the time the company said it was looking for investors to help fund a huge new factory in the city. The company has a $1bn order book in the US, annual revenues of £300m and is looking to expand into new markets.
At the time a spokesperson  said: "There has been a rapid growth in the sales success of the company in recent years.
"Princess is now firmly Britain's largest luxury boat builder, and the demand for Princess models has never been stronger with retail sales exceeding 300 boats a year and a near US$1bn forward order book stretching well into 2024. We are at full capacity and our primary focus is to expand our facilities and employment to respond to this unprecedented level of demand. "
Following the decision to locate a freeport in the city Princess Yachts has been looking to double its manufacturing capacity.
The spokesperson said: "This in turn will create additional jobs and secure a bright future for boat building in Devon and the UK. The company and its shareholders are now considering beginning discussions with potential investors to provide financial support for these exciting plans for growth."
The yacht-builder distributes its boats to customers through a 50-strong global network.
Despite recent growth the pandemic resulted in the company refinancing its debt and seeking further funding.