Marketing agency looks to expand into SME market with acquisition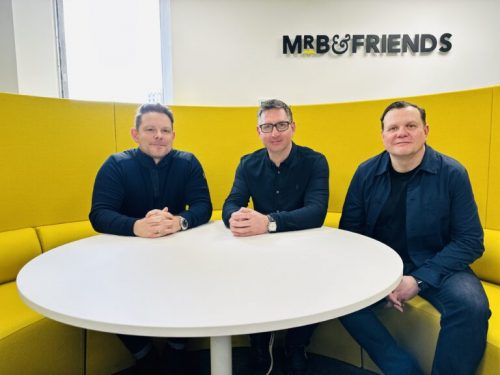 A Bristol marketing agency has expanded with the acquisition of a an SME specialist.
Mr B & Friends has acquired FutureKings as it looks to capitalise on the rapidly growing demand seen for brand strategy from SMEs.
FutureKings, launched in 2016 by creative director Steven Anderson and managing director Ben Mott, develops brand strategy and identity programmes to support start-up and scale-up businesses.
The consultancy has delivered rapid business growth for scores of early stage and scaling businesses through a range of packaged programmes.
FutureKings has 10 full time staff based in Bristol and London.
"There's something almost romantic about this union" said Mr B & Friends founder and chief executive Simon Barbato.
"Steve and I first met and worked together in 1995 at Light & Coley in London, and we had discussed starting an agency together before I launched Mr B & Friends. To now have the chance to rekindle that relationship is just wonderful."
He added: "This is a strategic acquisition. We have long been admirers of the work that FutureKings produces for this segment of the market – it's truly first class, and it's a segment we're also active in, having launched our brand accelerator programme Beta three years ago.
"Our aim is to leverage the FutureKings brand to accelerate this dynamic part of the market, helping more SMEs and early-stage companies to gain a competitive category advantage through brand development."
FutureKings will retain its brand, team, clients, processes and systems, and will relocate to the Mr B & Friends Bristol city centre to ensure a smooth integration and better adoption of client opportunity.
The FutureKings London team will continue their contribution for a transitionary period before opening the Mr B & Friends London office – a crucial element of the agency's growth strategy.
Ben Mott added: "From the first discussion about this acquisition, the mutual benefits and opportunities for both companies were obvious. Steve and I have been looking for the right way to grow, and this deal gives FutureKings the perfect platform.
"Our mutual ambitions for the future are clearly aligned; growth in Bristol, London and the US, delivering our proven processes to a wider range of SME and early-stage businesses. We're thrilled we've made this happen and are excited about the next phase of our journey."
This acquisition takes Mr B & Friends to 45 staff following an impressive trading year that has seen the agency grow revenue 34 per cent, winning new clients such as Lego Group, Persimmon Homes, Haleon, Gresham and British Canoeing. And with London now firmly in their sights and a presence planned for the USA, the company is predicting its best trading year of its 17 year history.
Steven Anderson said: "This move is testament to the hard work of the whole FutureKings team and the results we've had for our clients over the last seven years. A great strength of this acquisition is that culturally our ways of working are totally aligned as Simon and I come from the same starting place.
"I'm personally incredibly excited to be working with Simon again and that the stars have aligned for us professionally and as friends. Ben and I couldn't be more pleased with the exciting future plans and it is exactly the right time in our growth to really hit fast forward."