Forest Green Rovers coup as they appoint former Premier League star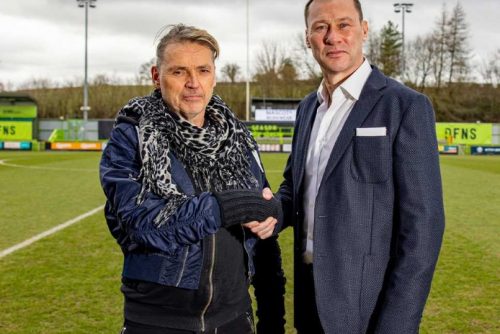 League One football club Forest Green Rovers have named former Everton striker Duncan Ferguson as their head coach.
The appointment is a major coup for the club which is owned by high-profile businessman Dale Vince.
The Gloucestershire team is recognised as one of the greenest in the country and has climbed up through the leagues.
Vince, who founded renewable energy firm Ecotricity, is known for his outspoken views. He recently announced he has donated thousands of pounds to the Labour Party.
The job will be Ferguson's first as head coach – previously he was assistant manager at Everton.
The Nailsworth team are currently bottom of the table and without a win in eight matches.
Ferguson is due to take his first training session today ahead of Forest Green's match at Shrewsbury on Saturday.
The Scot scored 73 goals in 273 appearances for Everton and was known for his aggressive style.
Ferguson began his career in football in 1990, and went on to play for Rangers, Everton and Newcastle.
He left Everton at the end of last season after a long coaching career with the team, which also saw him as caretaker manager on two occasions.
He said: "I'm really delighted to join FGR for the next step of my career, and I plan to be here for a while. We have a bit of a fight on our hands to stay up in League One and I am ready for the challenge.
"I am grateful for the opportunity to come and lead such a progressive and forward-thinking club too. Their world leading green creds are seriously impressive. I want to thank Dale for bringing me in – I'm looking forward to getting started."
Dale Vince said: "We're all excited to welcome Duncan, he is someone I have admired from a far for a while. It's just fantastic to have the opportunity to work with him in this next phase of our journey toward the Championship."