Industrial estate fully let after £1m refurbishment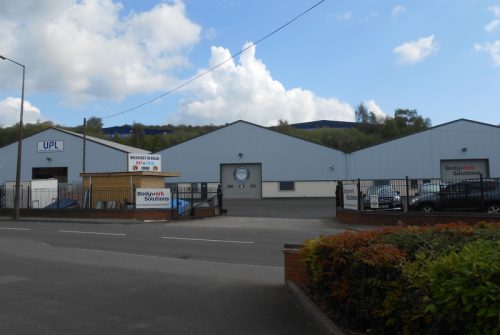 A £1m refurbishment to a Black Country trading estate has paid dividends with the park being fully let.
The facelift to Baker House Trading Estate in Lye took two and a half years to complete.
However, the investment by Taylor Boardman Properties has repaid with firms keen to relocate to the site.
The refurbishment was carried out in two phases to allow existing occupier, Universal Plastics, to relocate to a unit refurbished in Phase 1 in order to secure continuity of trade.
This resulted in the main building being divided into five units with a combined floor area of 48,276 sq ft and the existing garage retained and let to Simba 4×4.
The new units were refurbished with a new roof, doors and windows, internal decoration, modified front and side elevations, improved access by selective demolition, a resurfaced yard and new utility supplies as well as security and other services.
After being appointed by Taylor Boardman, Harris Lamb secured lettings with Bodywork Solutions, a manufacturer of truck bodies, and the Revival Solutions group, which took the remaining space on a five-year lease.
Sara Elwell, of Harris Lamb's Agency team, said: "This is further evidence of the demand for commercial space in the region continuing to outstrip supply.
"We were always confident that given the demand for space, the quality of the refurbishment and the property's excellent location just four miles away from the motorway network would attract tenants by the time the refurbishment was complete and so it proved."
The latest lettings mean that the estate's rent roll will exceed £180,000 by the time reduced rent periods have expired.