CWA comes full circle with completion of £15m Oculus building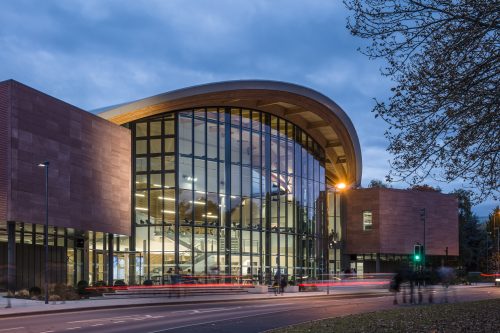 Civil and structural engineering consultancy, CWA has seen the completion of a £15m teaching facility for the University of Warwick.
The Birmingham city centre consultancy carried out all of the civil and structural engineering work on the new building, which is known as the Oculus.
The development – on the Tocil Field area of the Coventry campus – includes fully-equipped 500 and 250-seat lecture theatres, teaching and seminar areas, social learning and networking spaces and the most advanced teaching and visual technology available.
The facility is spread over two storeys and includes inclined lecture theatre seating and a long-span timber roof.
The new building – which will provide learning space for 1,400 students – was designed by architects from the Oxford office of BGS Architects.
CWA director Steve Wedge said the consultancy had been appointed by main contractor Willmott Dixon.
"This development is in a pivotal area of the campus, close to other key facilities. The building is architecturally outstanding, with the facilities inside the building providing a flexible learning environment combining world-class academic activity with a high level of technology," he said.
"The sustainability of the building and its impact on the environment was also a prime consideration, with provision for sustainable materials – locally-sourced where possible – thermal performance, natural ventilation, low energy lighting, and rain-water harvesting."
CWA has almost doubled in size in the last two years, and now employs more than 40 staff. Major clients include IM Properties, Seddon, Seven Capital, Prologis, Places for People, Court Collaboration and Cinnamon Care Capital.