Plastics manufacturer invests to retain cutting edge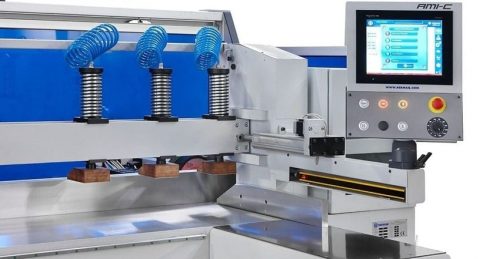 A plastics manufacturer based in the Black Country has invested in new plant to ensure its remains competitive in its global markets.
West Bromwich-based fabricator Wrights Plastics GPX has purchased a Bermaq Ami-C diamond edge polisher, the world's first fully automated polishing machine for acrylic and similar materials.
The firm uses diamond polishing on a range of standard Point-of-Sale retail display products as well as bespoke display and signage items for clients such as Marks and Spencer and The Arcadia Group. The process provides a clean-as-glass finish to acrylic and similar plastics and the Ami-C enables bevels up to 60º lean.
Managing Director Mike Wright said: "It's great to see the Bermaq Ami-C up and running. As with all our investment in cutting edge technology, this machine will enable us to complete this process more efficiently, faster and to a higher quality – and that's good news for our growing customer base and great news for UK-manufacturing as increased efficiencies will allow us to compete in a global market."
The £40,000 purchase follows from June's £300,000 investment in a laser cutting system.
Established in 1969, the family-owned business is a leading plastic product manufacturer with an annual turnover around £10m.
The firm operates from a 42,000 sq ft production unit in West Bromwich, while it also has a 9,000 sq ft warehouse facility where it maintains Point-of-Sale and retail display stock for its clients, which also include Selfridges and The John Lewis Partnership.