Goldman Sachs backs Birmingham skyscraper in £118m deal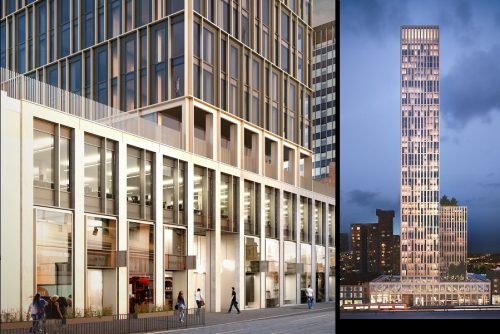 The developer of a 42-storey residential tower in Birmingham has secured a £118m debt facility from Goldman Sachs ahead of the ground breaking at the site.
Apache Capital Partners and Moda Living are building Birmingham's largest residential tower on Broad Street, opposite the Bank towers.
The build-to-rent development will offer 481 apartments of up to three-bedrooms and long-term rents of up to five years.
Richard Jackson, managing director and co-founder at Apache Capital said: "Birmingham has incredible long-term investment potential with considerable investment underpinning new infrastructure and employment.
"The city council has a lot to be proud of and its support of build-to-rent will pay huge dividends as Birmingham looks to further expand its skilled workforce and retain great talent."
The deal is Goldman Sachs' first UK build-to-rent development loan. The 4.5-year facility includes a 12-month extension option.
Chris Semones of the Merchant Banking Division of Goldman Sachs said: "This transaction continues our originate-to-hold strategy for large loans against high quality projects with excellent sponsorship, strong market fundamentals and resilient cash flows."
Planning was granted for the tower at 212-223 Broad Street, Birmingham in December 2017.
Earlier this month Irish construction company John Sisk & Son was appointed to deliver the skyscraper with ground due to be broken within weeks. It is scheduled to be completed in 2022.
The development also includes a 60,000 sq ft podium that will have a rooftop running track. More than half of the podium is dedicated communal space, including residents' lounge, health and wellness zones, co-working space and a dining club. There will also be ground floor commercial spaces.