Furniture retailer closing its Salford site with the loss of 20 jobs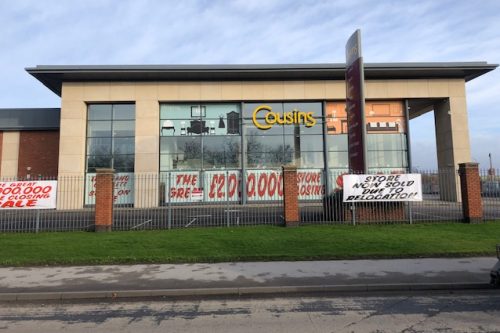 An established furniture retailer is closing its Salford site, with the loss of 20 jobs, blaming high business rates and the impact of major road works on its operations.
Cousins Furniture is shutting its flagship store which has been trading on Regent Road for 14 years.
It will begin a £2m closing down sale from this Friday, February 7, to sell the store's current stockholding.
The decision by the Birmingham-based family-run business to close its Salford operation followed an offer to buy the site.
Owner and founder, Robert Shotton, said: "Following an offer to buy our Manchester site, and after considering the very high property rates that we pay and the past impact of road works along Regent Road, we made the strategic decision to close our Manchester store and expand and develop our business in the Midlands, where we have been firmly established for over 34 years.
"We will also be considering other areas of the country," he added.
The firm, which also trades from a store in Dudley, in the West Midlands, said about 20 jobs will be lost as a result of the closure.
Cousins has sold the Regent Road site to national self-storage group Lok'nStore, which plans to convert the premises into a modern self-storage centre set to open by the end of 2020.
The 85,000 sq ft Regent Road store will sell all its display floor stock.
All special orders taken will be administered through the retailer's West Midlands head office and delivered from its Manchester distribution centre in Sharston, which will remain open.
Mr Shotton said: "We must dispose of every single item from every department. Everything, including our newest products must be sold."
The £15m roadworks on Regent Road began in August 2018, carried out jointly by Manchester and Salford City Councils, to reduce congestion on the busy arterial route into Manchester city centre, through Salford.
Motorists were warned to prepare for 12 months of major disruption.
However, in March, 2019, work stopped for two weeks when the main contractor, the Dawnus Group, was placed into administration. It recommenced in April after a new contractor, John Sisk & Son, was appointed.