Expanding law firm agrees Paradise deal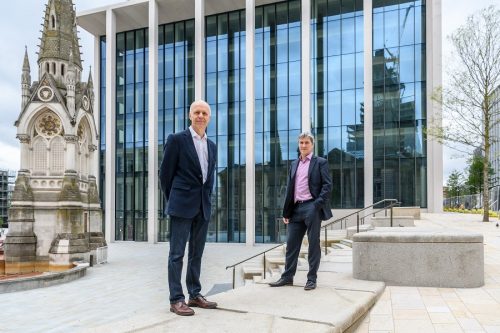 Knights is to become the latest professional services firm to commit to the Paradise development in Birmingham city centre as it cements its fast-growing status.
The law firm has grown quickly in recent years and is now underpinning that with a property strategy that is giving it the physical presence to match.
Knights chief executive David Beech said: "Despite working from home efficiently, without any impact on productivity, offices remain key for a business that is focussed on team and culture."
It has revealed major office deals in Leeds and Nottingham in the last week and has now confirmed its plans for Birmingham.
It will take 18,000 sq ft in the newly-built Two Chamberlain Square, part of the landmark Paradise scheme. Its fifth-floor space will have room for up to 160 staff.
International law firm DLA Piper has already committed to 40,000 sq ft in the same building, while PwC is in the neighbouring One Chamberlain Square.
In November Knights bought Birmingham firm Emms Gilmore Liberson in a £4.7m deal and followed that two months later with the £1.8m purchase of commercial litigation specialist ERT Law.
The Staffordshire-headquarterd firm has been busy executing its consolidation strategy in the regions and its other acquisitions include Turner Parkinson, Spearing Waite, Fraser Brown and Shulmans, as it builds its presence in key regional markets.
It has seen its market value more than treble to £350m since it listed on the stock market in June 2018.
Since IPO, the group has more than tripled its number of employees to over 1,100 and has more than doubled its number of offices to 13.
Knights yesterday revealed it had generated pre-tax profits of £13.6m in the year to April. Profits had increased slightly more than the 41% jump in revenues, which reached £74.3m.
Beech added: "Despite short term market uncertainty created by COVID-19 we remain committed to investing in our business to best position ourselves to emerge stronger and take advantage of the pipeline of recruitment and acquisition opportunities that we expect to accentuate in the current market environment."
The deal is also good news for the Birmingham office market, which had been sluggish even before lockdown. However the Paradise development has continued to make progress and will look different to visitors who have not been in the city since March. Recent additions include the launch of restaurant Dishoom in Number One and the return of the Thomas Attwood statue after several years in storage.
Rob Groves, regional director with Argent, developer-managers of Paradise, added: "Welcoming Knights to Two Chamberlain Square means we now have a major professional services hub developing around both of our first commercial buildings with PwC, DLA Piper and now Knights all choosing Paradise."
"Knights is a business on an exciting journey that will now have further room to grow at Paradise in a best-in-class commercial building that projects an ambitious and modern image to staff and visitors."
There is not a confirmed timetable for the opening of Number Two, for when Knights, DLA Piper or wine bar Vinoteca will begin working from the site.