Senior promotions at private equity firm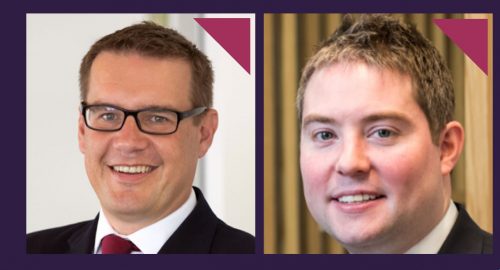 Private equity fund manager NorthEdge Capital has made two senior promotions in Birmingham.
The firm has promoted Andrew Skinner, head of Midlands to director and Kevin O'Loughlin to investment director.
As the head of Midlands, Skinner has leadership of the Birmingham office – including responsibility for the portfolio and origination in the region.
He joined NorthEdge in 2016 as investment manager and has since been involved in the majority of the firm's deals in the Midlands including the sales of Bridge Farm, Jigsaw24 and Direct Healthcare Group. Skinner also worked on the MBOs of Orbis Protect, Phoebus Software and the £90m acquisition of Catalis Group and sits on the board of SaaS business Pimberly.
O'Loughlin has been involved in the investments into Orbis Protect in 2018, and the £90m Catalis transaction last year, as well as leading the exit of Bridge Farm to a strategic trade acquirer.
Grant Berry, joint managing partner at NorthEdge, said: "It is a privilege to be able to reward hard work and dedication like this. The talent we have in the business is helping us to spot the best investment opportunities, work in partnership with our portfolio and ultimately drive successful outcomes for NorthEdge and its investors.
"Each promotion is richly deserved, following hard work from each of the individuals – some of whom joined NorthEdge many years ago and have progressed through the business. We look forward to seeing what comes next for each of them as NorthEdge continues to grow."