MBO brings new owners to architects practice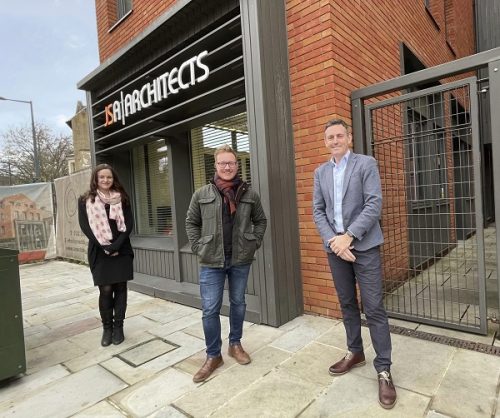 Justin Smith, the founder of JSA Architects has sold his shares in the company to two existing staff members in a management buyout (MBO).
The deal sees chartered architect Georgie Rathbone and chartered architectural technologist Chris Wood become co-owners and directors of the business, whilst Smith will remain as a consultant to the new management team.
The trio says the move has been "a couple of years" in the making and "is designed for the long term continuity of the practice", which has offices in Derby, Nottingham and Solihull.
Smith said: "I am really pleased to be able to transition the business to two very talented individuals who have proven to be a very good fit for the company. I am also pleased to ensure long term continuity for our clients and their projects with Chris and Georgie in charge and having spent a significant amount of time developing and implementing robust processes and knowledge bases."
Having joined JSA as an associate director, Wood has been in full control of the practice's technical, project management and delivery services. He brought with him vast experience in the B2B sectors which saw a new direction for the practice and a more diverse portfolio, including hotels, care homes and student residential developments, as well as ongoing commitments with EasyHotel, Bowmer + Kirkland and regional developers.
He said: "I am delighted that the process has been concluded following a well-considered transition programme which all started with a management restructure and name change in 2018. Nobody could have predicted the current economic challenges, but the recent record-breaking financial year and increasingly robust client base demonstrates this is still the right time to see in the company's new chapter."
Rathbone has led planning and concept design at JSA since she joined from CPMG Architects.
She said: "Since joining, I have been amazed at the passion and collaborative efforts of the team which have resulted in some incredible projects and a great service. Both Chris and myself feel proud and honoured to have the opportunity to continue to shape the direction of the practice and build on its progressive values".
"JSA has years of success in which to build," added Smith, "and we're both relishing the opportunity to further develop the design-rich portfolio of exciting projects. It promises to be an exciting journey ahead for JSA, our partners and our clients."