£24m student scheme voted through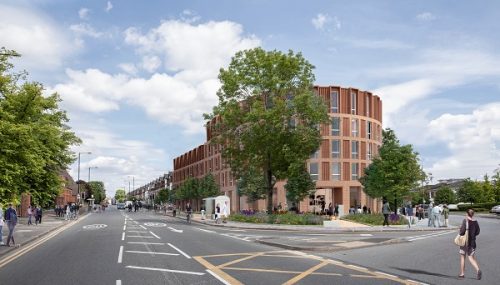 Alumno has been given the green light to develop purpose-built managed student accommodation on Dogpool Lane in Birmingham.
Planning permission has been granted by Birmingham City Council for the £24m project, which will redevelop a currently underused former BT brownfield site within the established Stirchley community.
The new 24-hour managed residence will accommodate the growing number of students attending the local universities and dental hospital, taking pressure off private housing in the area. It will comprise a mix of cluster beds and single occupancy studio rooms for 167 residents, together with a reception and communal areas.
The scheme will also provide an improved retail space for the existing Post Office and newsagent based on the site, which will be relocated close by during construction. The local community will also benefit from an enhanced public area in front of the building, which will include landscaping, seating and cycle stands. This space will feature public art to be created through an initiative led by Birmingham Poet Laureate Casey Bailey in partnership with the Ikon Gallery, Writing West Midlands and pupils of the neighbouring Selly Park Girls School.
The development will be car free, with students prohibited from bringing vehicles to Birmingham through their tenancy agreements. Residents will benefit from easy access to public transport, with the development close to bus, rail and cycle networks, as well as being within walking distance of local university campuses.
Designed by Glenn Howells Architects, the new building will comprise brickwork and terracotta detailing, which references local materials, while also providing a new identity for the building.
"I'm delighted that we have been granted planning permission to develop this site on Dogpool Road, which will improve the local area visually, provide an economic boost to local businesses and deliver much needed accommodation for Birmingham's growing student population," said Alumno managing director David Campbell. "As with all our developments, we have worked closely with the surrounding community and local authority to ensure the scheme enhances this vibrant area."
Dav Bansal, partner at Glenn Howells Architects, said: "The elegantly crafted red brick-terracotta design of Dogpool Lane responds to several key local landmarks, including the red brick Selly Park Church and Dogpool Lane Hotel. Once completed, it will provide students with an attractive place to live, study and socialise in a healthy and sustainable environment. The project also reinstates a piece of under-utilised green space as a matured setting for the building for both students and the local community to enjoy.
"The scheme has been a culmination of the many lessons learnt and experiences working with our long-standing client Alumno, and we believe this will not only provide a much needed and sustainable home to embed students in the wider community, but also a catalyst for regenerating this local neighbourhood."
Alumno plan to have the new building completed for the 2023 student intake.