Disruptors Midlands 2021 – Switching the lightbulb on: How to grow a disruptive business
For entrepreneurs, innovators, and all-around game-changers, disrupting your industry or the competition, often means disrupting your own business first.
Disruptive ideas can have huge potential and the rewards are enormous, but it can also be real challenge to stay ahead of the curve.
This session looked at what it meant to be "a disruptive business," and the challenges that come with that.
For Leanne Bonner-Cooke MBE, founder & CEO of e-Bate, the cloud platform for rebate accounting, coming up with a 'disruptive' idea was about finding a gap in the market.
While there are other competitors, she found the potential for a SaaS Rebate Management solution across multiple industries globally.
"It was about identifying the problem that's there, and how you can improve it significantly with the use of technology.
"So, it's not just about the efficiencies that you can gain, it's also about the analytics that you can get from digitizing the process and for me, it was how to transform the whole sector. To build a piece of tech in a disruptive way is a challenge, which is why we decided to go out for VC funding just so we could accelerate the product a lot quicker and get to market."
BGF-backed Antser delivers services to the social care, health and education sectors in partnership with local authorities and independent providers. CEO Richard Dooner said the social care market has previously lacked real innovation.
"So, we set out on a journey to try and do things differently and do it better with new technology at the heart of that to disrupt and change the status quo," he said.
"Our technology underpins what we do but it also helps to innovate people at the front end to drive better outcomes for our customer base.
"And in doing that, we really get involved with some really innovative ideas and concepts."
Julio Taylor, CEO at digital agency Hallam, said the "deep age of digital transformation" is over.
"We have now reached a tipping point where digital has overtaken almost every other form of communication. And I think anyone who wants to disrupt in the future needs to embrace this digital future.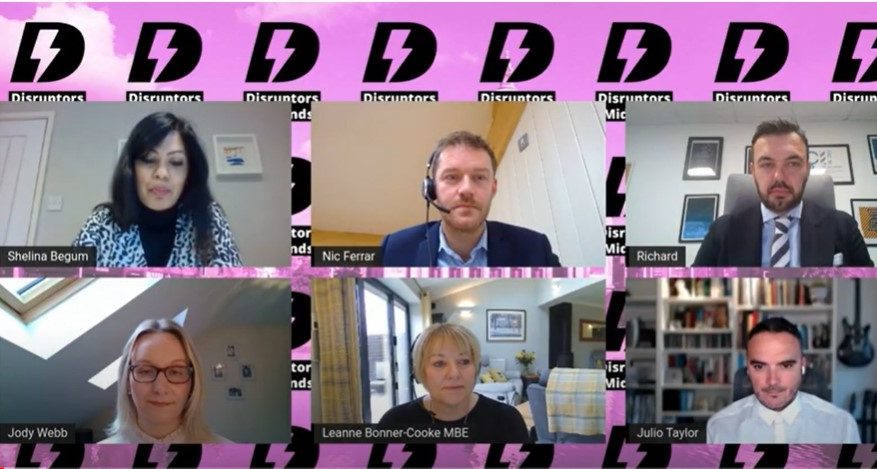 "But I don't think it is enough to simply say, 'we need to have a website, or we need to be digital or technologically enabled.'
"That's now become a bare minimum and if you're not already digital, you're behind the curve.
"The next great open field is what we call the transformational 20s, which is that the next decade is going to unleash a wave of transformation that will be unlike any before it.
"The speed at which we're able to communicate and we're able to do stuff with customers, with product, and with tech tools will enable a speed of transformation that is precedented."
Nic Ferrar, Partner & Patent Attorney at Adamson Jones, pointed out that IP protection for your ideas and inventions should not only be protected but it was necessary for funding and investment.
He said: "It's so important for funding that it has become a checkbox.
"The businesses that have protected their IP and have a very clear mark in the ground about what their IP is, they're far more likely to get funded.
"And people are really prioritizing it because they're looking at the value of their IP and longevity."
Jody Webb, Partner at Shakespeare Martineu, added: "Of course investors are looking for a good product, but they also look for a good management team.
"And that's a real key to their investment.
"They want to get into the skin of that business and get to know the people behind it."