200 business leaders come together for Invest Midlands dinner

Almost 200 business leaders from across the East and West Midlands gathered at Millennium Point in Birmingham on Wednesday evening (March 16) for TheBusinessDesk.com's Invest Midlands Dinner.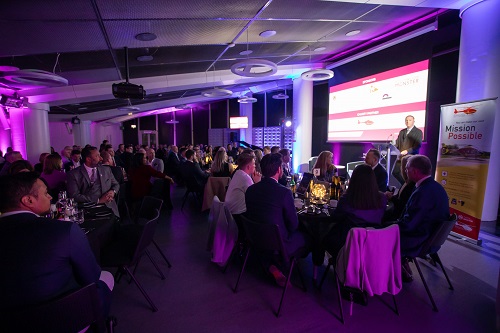 The evening, the sister event to the Invest Midlands 2022 online conference to be held on March 25, heard how the momentum gathering pace across the region is capturing a spirit of excitement and possibility.
Hosted by TheBusinessDesk.com's Midlands editor, Sam Metcalf, and business reporter, Anna Cooper, the audience also heard keynote speakers from professor Adam Tickell, the new vice chancellor at University of Birmingham, and councillor Ben Bradley, MP for Mansfield and leader of Nottinghamshire County Council.
There were also on-stage interviews with Tom Sumpster from the Pheonix Group and Sophie Dale-Black of British Business Bank.
Sam Metcalf said: "It was great to be joined in-person by a selection of speakers at our Invest Midlands online conference. We held tonight's event because we know the value of face-to-face conversation, of being in the room together and – we hope – feeling that sense of positivity about the region."
Professor Tickell talked about his plans for the future and how the University of Birmingham was undertaking pioneering work on sustainability, among other areas. He urged the private sector to continue working together with academia to bring forward new investment in the Midlands.
Councillor Ben Bradley said that the East Midlands had a huge opportunity ahead of it, and that the region had "almost too much" in the pipeline. He said that the East Midlands should speak with one voice to ensure that it gets things done.
Tom Sumpster spoke about investing not only in city centres and their high streets, but also the importance of a holistic approach and concentrating on ensuring that the wider community benefits from funding. He said there were definite reasons to be optimistic about the Midlands' future, post-pandemic.
Sophie Dale-Black talked about how Midlands businesses were making a recovery after two incredibly difficult years. She said she was proud of the work that the British Business Bank had done, and highlighted the rise in entrepreneurialism – especially from female-fronted businesses.
To secure your tickets for next Friday's online Invest Midlands conference, please click here.