People: Wright Hassell; Harris Lamb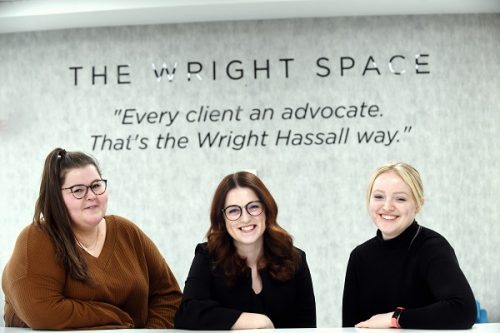 A solicitor at a Warwickshire's law firm has been appointed as the new chair of a group which supports young lawyers in the region.
Charlotte Kahrman says she wants to increase young lawyers' access to support after starting her two-year term as chair of the Warwickshire Junior Lawyers Division (WJLD).
Charlotte, who is part of the Contentious Probate team at Leamington Spa-based Wright Hassall, joins colleagues Sarah Price and Lucy Compton at the WJLD, who hold the roles of academic officer and vice-chair respectively.
She said: "It's a really exciting time to lead the WJLD – a group which plays such an important role for young lawyers.
"It can be a little bit daunting when you are a junior professional so it is a really valuable network for young lawyers in like-minded positions to share experiences and advice in an informal setting.
"As a newly-qualified solicitor myself, I know that when you are just starting out in your career, meeting new people who can support you on your journey through the law can be an invaluable resource.
"Unfortunately, Covid scuppered all face-to-face events but we're really keen to get these moving again and return them to pre-Covid levels, and I am also hoping to build new relationships and work with our region's universities to help share advice and our own experiences with the next generation through a new mentorship scheme with students."
"I am looking forward to working with Sarah, Lucy and the rest of the committee over the next two years."
Harris Lamb has expanded its building consultancy team with the appointment of a graduate surveyor.
Sam Kowalik has joined the business further to completing a Masters degree at Liverpool John Moores University in Commercial Building Surveying and gaining practical experience of site management with a residential developer.
He now plans to further his professional qualifications with the support of his colleagues.
Kowalik said: "I'm very committed to advancing my career within the commercial property sector, and Harris Lamb's reputation for providing both in-house mentoring and practical experience to help graduates work toward the APC and further opportunities for career progression is well known throughout the sector.
"The business is also involved in a diverse range of commercial projects throughout the UK, which will provide broad exposure to buildings and instructions of all sizes, which will advance both my hands-on experience and my knowledge within the field."