Housebuilder focused on future growth as it looks to find next generation of talent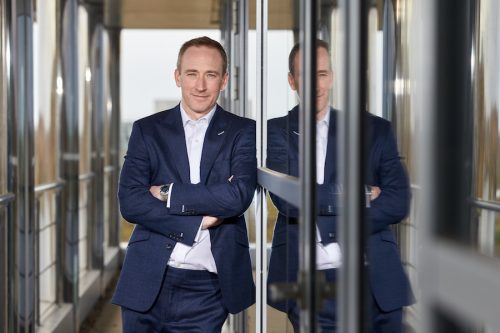 There are few sectors that appear to have been as resilient to the challenges of 2020 as the residential property market.
Over the last 12 months, as people have been forced to spend more time than ever in their homes, we've seen PRS developers continue to secure funding and businesses involved in home improvements boom.
It should be no surprise then that the housebuilders are looking forward to the future. Tim Beale, chief executive of Doncaster-based Keepmoat Homes is certainly focused on what's to come. The firm which is known as the UK's leading partnership homebuilder has recently launched its first graduate trainee scheme, something Beale says "probably should have happened sooner" but is coming at a time when the business is looking to continue its growth.
Talking to Beale it's clear he's passionate about the industry and keen to bring in the next generation of talent, perhaps because he entered the sector via a grad scheme himself, 17 years ago.
"After completing a degree in Urban Studies, and then adding a diploma in Town Planning, both from the University of Sheffield, I joined the industry as a land graduate trainee", he explained.
He credits the scheme as setting him on a path which saw him progress quickly from land buyer to land manager, land director, managing director. He then joined Keepmoat Homes as a divisional chairman before becoming chief operating officer and then CEO in January 2019.
Describing the house building sector as often slow to adapt, Beale admits that there have been significant changes over his career not least the product being "better and more efficient" and the digitalisation of processes. However, he believes the people aspect has remained the same
"What's not changed is you need great people, a great team around you and a really capable group that work well with each other and understand what the company is doing."
As result he says the requirements of people wanting to enter the industry remain the same.
"The biggest thing you need is an enthusiasm, and you can't teach that. Obviously though there are a whole host of other things such as being tenacious, curious and self-educating – we'll train them but they need to bring their own energy, excitement and interest as that will propel them forward."
The scheme which Beale states is launching outside of the traditional graduate scheme window is also opportunistic.
"We looked at it from a maverick perspective and thought, well there are so many graduates who are potentially struggling to get jobs at the moment, wouldn't it be great to be able to give nine or 10 of them the opportunity to start a career with us. But also there'll be some really capable people out there now looking for something because we're outside of the traditional grad scheme windows."
And it sounds as if the "maverick" approach has paid off with Beale stating the business has been overwhelmed with applications and that some great people have already applied. With the ambition being the scheme will roll on an annual basis.
But as these new graduates prepare to start their careers, what have the last 12 months meant for the sector and for Keepmoat.
Beale states, yes 2020 had challenges not least a period of a few weeks where the business couldn't trade at all because they couldn't deliver any product. In fact demand has been so high the housebuilder only has six stock houses, "normally we'd carry 10 times that amount".
This he credits to the approach the board took, to ensure all parts of the supply chain were paid but also that land deals continued all be it in a slightly different guise than normal.
In Yorkshire at present the housebuilder is currently delivering 4,457 houses and is in for planning for a further 3,643 across 34 sites.
Beale believes this growth will only continue and that Keepmoat Homes' unique partnership model working with registered providers, Homes England and local authorities is one that other developers will embrace because it's attractive to investors.
" [The partnership model] is attractive because it offers a high return on capital. We build more sites, we deliver more much needed homes for people with less investment required – which mean it's great for society but it's great for investors too. I think gradually the wider industry is waking up to how important partnerships is and why that's such a great place to be."
He adds that when he started his career the idea was in its infancy and likely those doing partnerships were smaller and perhaps "unfashionable" but now it's "investor friendly".
In the case of Keepmoat Homes those investors include Sun Capital Partners and TDR Capital, the latter of which also has a stake in Asda having acquired a majority stake in the supermarket giant alongside the Issa brothers.
Beale continues that the model is so investor friendly that Keepmoat is continuing to grow. With operations in all the geographies they want to be, the chief executive highlights that the firm is making multiple investments to support its "strong business units" in the likes of Scotland, the Midlands and the North West.
So how does the graduate scheme fit in to the growth plans?
"Having created a framework and got the management teams and delivery capability to fulfil our ambitious growth plans, we just need to keep making the land investments and bringing the land in, which we are and which is why we want to bring through the next generation of talent."
This interview took place before the news broke that Keepmoat Homes' investors were considering a sale or flotation of the business. However Beale did say: "Keepmoat has been trading well throughout the pandemic and is well positioned to deliver its future growth plans. As a private equity owned business, Keepmoat Homes remains open to considering all available options, however at this stage no decisions have been made relating to the direction it will take in the future."