Nationalisation looms for Sheffield Forgemasters
X

Register for free to receive latest news stories direct to your inbox
Register
It's being reported that a deal is only days away for the Government to take the Yorkshire Business Masters award winning Sheffield Forgemasters into public ownership.
Sky News has apparently learnt that the Ministry of Defence (MoD) is finalising a deal that will see one of the country's oldest steelmakers and a critical part of the UK submarine fleet's supply chain nationalised.
Talk of nationalising the firm has been circulating for a while with TheBusinessDesk.com reporting in December that the MoD was in talks with the the business about acquiring control.
If the deal arises – Sky has quoted industry sources as saying a deal could be "announced withing days" – it would bring to an end a turbulent period for the business which in April pressed on with a £120m investment in one of the biggest machine presses in the world to make forgings for the Royal Navy's nuclear submarines.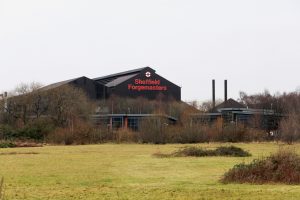 However the business which took home the large business of the year award at the 2020 business masters – a category judging prior to the pandemic – was forced to make almost 100 jobs redundant last year describing it as an "unavoidable necessity" of the economic climate of the time.
If a deal goes ahead this won't be the first time the Government has become involved in the business. Five years ago it had a rescue deal from a state-owned Chinese company blocked by ministers. It then went on to receive support from BAE Systems,Babcock International and Rolls-Royce Holdings, who together stepped in to underwrite £30m of bank lending.
Since then the Government has introduced the National Security and Investment Act which gives it much greater powers to scrutinise foreign investment and intervene in mergers and acquisitions on the grounds of national security.
Any move by the Government to nationalise Forgemasters would be linked to the firms work on Britain's submarine fleet – highly confidential work that involves developing advanced components for the country's fleet of nuclear submarines. However aside from the defence work, any potential bid could also impact Forgemasters' other work in the renewable energy sector, an area that clearly is key to the government's ambitions to rebuild the economy through a "green industrial revolution".
In its latest accounts published in August last year, the business had increased revenue by 20 per cent to £79.3m and entered 2020 with an order book of £162m.
At the time the firm's CEO, David Bond said that during 2019 the business had focussed on its core UK Defence programmes, but noted that in 2020 was a challenging environment for all manufacturers.
He however said: "We are optimistic about the long-term prospects of the business given its unique capabilities in the Defence Nuclear supply chain and we continue to work with external stakeholders to secure our role on future defence programmes.
"We also see strong prospects in support of the UK Government zero carbon agenda, particularly supplying complex steel products into Civil Nuclear power applications and large off-shore wind structures."
In response for a request to comment on the MoD's plans for Forgemasters Bond told TheBusinessDesk.com: "Our long-term relationship with UK Defence prime contractors and the MoD is based on the critical work we do within the defence programme and it would be inappropriate to comment further on such commercial sensitivities."