Casting vote used to decide in favour of co-living development
X

Register for free to receive latest news stories direct to your inbox
Register
A committee chairman used his casting vote to determine a deadlocked vote on plans for a co-living development in Kelham Island, Sheffield.
The application, for the site on the corner of Bowling Green Street and South Parade, were considered by Sheffield City Council's planning and highways committee yesterday afternoon.
Five councillors on the committee voted for the proposals, five against and two abstained – leading to chairman Cllr Peter Price making the deciding casting vote to grant permission.
Applicant Grantside says its seven-storey 90-home "Hive" scheme will feature 64 studio apartments, six larger, accessible studio apartments and 20 two-bed homes. There will also be a roof terrace, co-living, leisure and working space.
Planning officers had recommended the development should be approved, as it would comprise a high quality building which would regenerate an under-used brownfield location.
They noted it would support employment by creating extra workspace and added Sheffield cannot currently demonstrate that it has a five-year housing supply.
Chloe Parmeter, representing the applicant, said this will be a net zero development which will make a significant contribution towards the city's housing needs.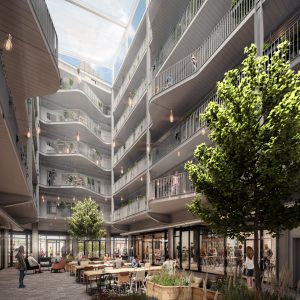 She said the property would not have parking provision but will be ideally situated to allow residents to access public transport options.
Councillors Garry Weatherall and Dianne Hurst expressed approval for the scheme, with Cllr Weatherall stressing the need to provide housing for young people finishing their university education in Sheffield and who want to remain in the city.
Cllr Hurst said: "Co-living is an entirely new concept for me but I can see how a scheme like this would be attractive to young professionals. It's a very complex application, but on balance I'm going to support it."
Opponents included Cllr Andrew Sangar, who said: "I think this is too big for the site. Four or five storeys would have been acceptable but I think seven storeys is too high."
Cllr Peter Garbutt said he was reluctant to vote against the plans but also said he thought the planned building would be too high.
Cllr Brian Holmshaw argued the studio apartments would be too small and he highlighted Historic England's heritage related concerns about the plans.
"Historic England say it is not an appropriate development for this site," he said. "They say the harm is substantial and unwarranted and I agree with them. I will not be voting for this."