University expansion programme secures consent
Councillors have approved plans for Sheffield Hallam University to develop its city campus.
Earlier today, Sheffield City Councils planning and highways committee considered an application for three new buildings for teaching and learning on the site of the recently demolished Science Park and adjoining car park, adjacent to Howard Street leading up from Sheffield Railway Station.
The buildings would between four and eight storeys high.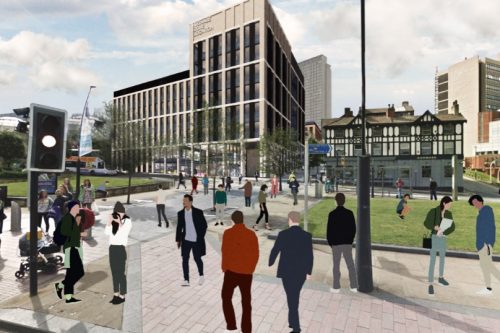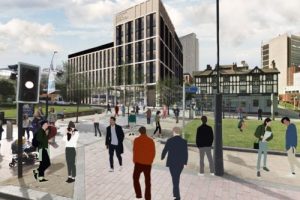 A new 'university green' public space is also proposed. This will see trees planted, and more than 4,300 sq ft of  new greenery planted and spaces for up to 150 people to sit and relax.
Designs include the latest technology and measures to make the new buildings zero carbon ready.
They include the use of sustainable energy solutions such as heat pumps, maximising the use of photo voltaic panels and provisions to support and promote sustainable travel.
The development is only the first phase of wider plans to improve the city centre campus.
Council planning officers had recommended the scheme should be approved, stating the overall public benefits of redeveloping this underused brownfield site and allowing the university to expand would outweigh the "less than substantial harm" caused to the conservation area.
Daniel Ladbury, director of estates and facilities at Sheffield Hallam, told the planning and highways committee the planned development is part of the university's strategy to attract the best students, staff and partners.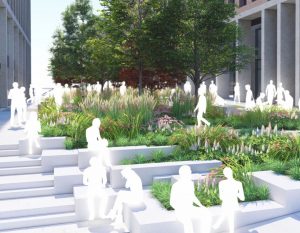 "It's vital that our facilities match our ambitions," he said. "We want to create vibrant and exciting learning hubs and spaces. These will enhance the economic, social and cultural life of the university and the city." 
Ladbury said the scheme would bring economic benefits by improving the vitality of this part of Sheffield, generating increased footfall and employment.
Councillor Andrew Sangar said: "I shall be supporting this scheme, I'm very excited by the design and the buildings which were there before weren't of architectural merit, so it's no loss.
"I think this development is a statement for 21st century Sheffield. It's bold and ambitious and I really welcome it."
He was backed by other committee members, who praised the sustainable elements of the application and the creation of new public realm.
Commenting after the meeting, Richard Calvert, deputy vice-chancellor at Sheffield Hallam, said: "We're delighted that the council has approved the first phase of our campus plan. This development will play a major part in delivering on our ambitions as a university, including our contribution to the city and region as set out in our recently launched Civic University Agreement.
"These new facilities are designed to deliver significant benefits for our students, and to make Sheffield Hallam an even more attractive place to study and work, whilst also enhancing a key gateway to Sheffield City Centre."
Construction is due to begin in early 2022 and be completed in the second half of 2023.