"Computer says no' is an opportunity for me'
Ian Fields, is business development manager, North West and Yorkshire at Recognise Bank. He joined the company in October 2020 and was one of the lender's first relationship managers, based in Manchester. He gas a wealth of experience in business lending, including stints at Aldermore and Allied Irish Bank, as well as Yorkshire Bank, where he headed up the property lending team.
---
There has been a trend in business banking over recent year towards centralising everything, cutting down on the number of people like me out in the field in favour of call centre-based teams. Recognise Bank rejects this approach and fully embraces relationship banking, and for me that's the best part of the job – meeting SME owners, understanding their ambitions and working with them to help their businesses grow.
The SME sector across the UK is in good health, particularly considering the difficult couple of years we have had because of the pandemic. Where I am based in the North, there's a lot of positivity around rebounding from the impact of COVID, growing existing businesses or pivoting them in different directions. The opportunities are diverse, and it is probably one of the most exciting times to be working in the SME sector.
The cost-of-living challenge for consumers, as well as soaring energy costs, is one of the biggest challenges which will impact the business sector either indirectly via customer demand, or directly when it comes to the cost of powering businesses. On top of that, a rising interest rate environment means that smaller companies will need to keep an eye on costs and cashflow management.
For Recognise Bank, it means we can work with businesses and their advisers to help them find the right funding solutions to match their financial circumstances and growth ambitions.
We've seen a lot of new entrants into the lending sector over the last few years, new challenger banks and so-called alternative lenders. This has shift has injected more competition and choice for borrowers, especially as the big high street banks, who traditionally dominated the sector, have also withdrawn and focused on bigger business lending.
However, this can make it quite daunting for a growing business that is new to lending and isn't sure where to turn. In the past they may have gone to their bank, but this now usually means being sent on to a call centre, which isn't very helpful. As a result, the role of the broker or introducer has become even more important, acting as an adviser and support for a business, matching them with the most suitable lender.
Recognise Bank's four values are Respect, Simplicity, Relationships and Kaizen. These are embedded in everything we do and help shape how we treat everyone – our colleagues, partners and of course our customers.
Simplicity and Relationships are core values, because we know that SMEs want a financial partner they can trust and build up a partnership with, but they also want to benefit from a straightforward process when they need funding. This is backed up by our use of cutting-edge digital technology.
Kaizen means continuous improvement. We don't believe the conventional way of doing things is always the right way or the best way, so we challenge ourselves to go the extra mile for customers and each other.
'Computer says no' is an opportunity for me.State of the art computer systems, the latest software and established lending policies rarely work well by themselves, unless the right people are involved, in the right place is something I learnt early in my career. I see numerous banks and other lenders, both long-established and new to market, formulating their lending offering with systems and policies right at the forefront, but with their people lost in the ether.
This was one of the attractions of working at Recognise, because it is our people first and foremost who can make a difference. This culture allows me to deliver my hands-on approach, apply my experience and commerciality, and structure a viable solution that works for all parties. This is done when it matters most at the start of a transaction, with our amazing technology and software kicking in afterwards, making loans easier to progress to completion. Many lending requests do not fit in to a 'pigeonhole', so this is where Recognise Bank shines.
I have been very lucky to work with some very talented bankers and I have made a hobby out of understanding how and why they are successful, and then adopting or learning their best traits and knowledge. In this regard, Recognise Bank is a goldmine as the people here are some of the best in present day banking.
But with regards to influence on my career, whilst there is list of nameless individuals both past and present, I believe my circumstances and environment have also greatly shaped me as a lender. I have provided funding solutions through a recession, the Credit Crunch, Brexit and Covid. All these events had differing impacts and created new considerations, and I can summarise what I have learnt from them all: if you have a viable lending requirement which needs an experienced commercial view, I can work up a solution here at Recognise Bank.
Having a family with two young children has taught me the art of snatching moments of relaxation whenever possible. Outside of the office I enjoy cooking, and as that might mean that dishes will need to be washed, the children typically make themselves busy elsewhere, which is always nice, especially if I'm cooking a risotto that requires a little wine in the pot! I also enjoying reading, the outdoors, including hiking and camping, discussing current affairs, travelling, and meeting new people.
---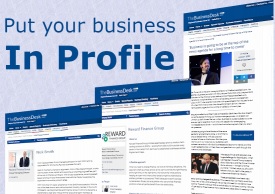 Appear in your own In Profile feature by signing up for a Business Profile on TheBusinessDesk.com.
The company and individual profiles on TheBusinessDesk.com are designed to help our clients build corporate and individual awareness within the regional business community and benefit from TheBusinessDesk's traffic and visibility in the business community and the search engines.