EY Entrepreneur of the Year 2017 Midlands' finalists revealed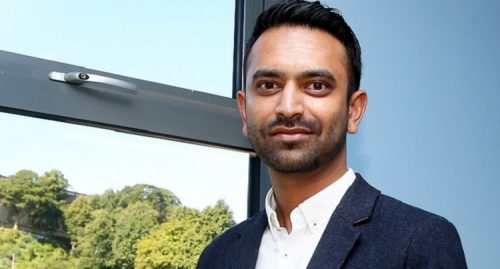 The leaders of 24 of the Midlands' most dynamic businesses have been listed as finalists for the EY Entrepreneur Of The Year Midlands 2017 programme. Between them, they have a combined workforce of more than 5,400 people and turnover of more than £1.1bn.
The shortlist highlights the vibrant diversity of the Midlands entrepreneurial landscape with companies from sectors such as automotive, technology, real estate and consumer products represented.
The finalists, who are now part of a global network of fast-growth business leaders, will convene at the Midlands award ceremony at Birmingham Town Hall in June. Similar events will also be held in Scotland, the north of England, and London.
In the Midlands, as well as each UK region, an independent panel of judges will select winners in each category, who will progress to the UK final held in the capital in October, to vie for the title 'EY UK Entrepreneur Of The Year'. Each country winner will then attend the 'EY World Entrepreneur Of The Year Forum' in Summer 2018, which gathers the world's most inspiring entrepreneurs, game changers and government leaders from more than 60 countries.
Now in its 31st year globally and 19th year in the UK, 'EY Entrepreneur Of The Year' recognises the spirit and contribution of exceptional entrepreneurs, running in more than 145 cities in over 60 countries worldwide.
Neil Meredith, EY Entrepreneur Of The Year leader in the Midlands, said: "The Midlands has a hugely diverse and successful entrepreneurial community and it's fantastic to showcase the achievements of some of the region's most innovative businesses as part of EY Entrepreneur Of The Year.
"The programme supports the enviable entrepreneurial community we have in the Midlands and celebrates the contribution that it makes to the regional economy. This year's regional finalists have undeniable economic clout, delivering a collective turnover in excess of £1.1bn and providing more than 5,400 jobs."
This year the programme will honour a UK entrepreneur, in the Midlands and each UK region, who is delivering positive social impact, with a special 'Building a better working world' award. A nod to EY's organisational purpose, the special award acknowledges the role that business plays in driving change and making the world work better.
Despite market uncertainty, entrepreneurs reported a strong performance in the last 12 months and remain optimistic in their outlook, according to EY's Entrepreneur Of The Year Alumni survey released in February.
69% of respondents quoted an increase in profits over the last 12 months, while 38% experienced double-digit growth (greater than 10%). In addition, 88% created new jobs, with over half (54%) taking on more than 20 new recruits in the same time period.
Looking ahead, despite 30% of entrepreneurial business leaders describing their single biggest business challenge as 'economic uncertainty', 54% predict a greater than 10% profit growth in the next three years and nearly a third (32%) plan to hire more than 20 people in the next 12 months.
The EY Entrepreneur Of The Year Midlands judging panel will be chaired by Tracy Lewis, previous CEO of Wacoal, global manufacturers of women's lingerie and underwear. She currently holds positions as NED and chairman of RemCo for AIM listed Staffline Group Plc and NED for Bridgepoint Development Capital backed Inspired Thinking Group.
She will be joined by: John Blakey, chief executive officer, coach and author, The Trusted Executive Foundation; Rob Freer, director and head of Midlands, NorthEdge Capital; Caroline Green, chief operating officer and chief finance officer, ProLabs; Phil Hodgkinson, global product and architecture strategy director, Jaguar Land Rover; Iain Lister, executive chairman, Greenray Energy Solutions; Paul Kehoe, chief executive officer, Birmingham International Airport; and Catherine Wall, chairman, Signum Technology.
Full list of Midlands 2017 finalists by category:
Disruptor
· Jim Driver and David Driver, Founders of eTech Solutions, based in Solihull. The company provides mobile working and advanced operational software platforms for the energy assessment and residential surveying & lending sectors
· Rob Halliday-Stein, Founder & Managing Director of Jewellery Quarter Bullion Ltd, based in Birmingham. Jewellery Quarter Bullion Ltd is the UK's largest online bullion dealer, operating under the brands BullionByPost and GOLD.co.uk
· Nadeem Raza, Chief Executive Officer of Microlise Group Holdings Limited, based in Nottingham. Microlise is a leading European telematics and technology solutions provider.
· Rupert Longsdon, Managing Director of The Oxford Ski Company, based in Oxford, which is a specialist luxury travel agency, providing tailor-made skiing holidays.
· Christopher Macey, CEO of Wintech Group Limited, based in Wolverhampton. They provide specialist consultancy expertise in the emerging science of facade engineering, with services aimed at improving the quality of major buildings.
International
· David Carver, Chairman of Carver Group Limited, based in Aldridge. The Group is involved in the design, manufacture, sales and support of commercial air conditioning and ventilation products.
· Chris Milburn, Managing Director; David Hill, Marketing Director; Neil Russ, Finance Director; David Wellings, Special Projects Director; John Jones, Regional General Manager UK; Steven Wilson, Regional General Manager, Europe & ROW; and Mike Mumau, Regional General Manager, North and America – all of Kee Safety, based in Cradley Health. Kee Safety is a global supplier of safety solutions and products designed to protect people from hazards.
· Richard Buckland, Chief Executive Officer of Optilan Group Ltd, based in Coventry. Optilan Group Ltd is a leading supplier of communications and security systems to the Oil & Gas and Infrastructure marketplace.
· Wayne Hollinshead, Chief Executive Officer of Pattonair Holdings Limited, based in Derby. Pattonair Holdings Limited is a leading global aerospace and defence supply chain service provider.
· Peter Poon MBE, Founder and President; and Dr Andrew Poon, Chief Executive Officer of Romax Technology, based in Nottingham. Romax Technology is the world's leading provider of engineering and technology solutions.
Master
· Chris Morling, Managing Director of Money.co.uk, based in Cirencester. Money.co.uk is a financial comparison website that compares over 17,000 financial products and attracts millions of visitors every month to their website.
· Martin McAuley, Managing Director of SMH Fleet Solutions Ltd, based in Worcester. SMH Fleet Solutions offer a comprehensive portfolio of services to vehicle manufacturers and leasing companies such as pool fleet management, vehicle inspection and refurbishment, demonstration and company car management, logistics, transportation.
· Peter O'Brien, Managing Director of O'Brien Contractors Limited, based in Leamington Spa. O'Brien Contractors is a provider of civil engineering, design and build and groundworks services, as well as turnkey sports pitch solutions.
· Alfred Gordon, Group CEO of Qdos Holdings LTD, based in Leicester. Qdos is a group of companies that provides insurance, accounting, employment law, tax consulting and legal services.
Rising Star
· Ravi Kathuria, CEO of Talash Hotels Limited, based in Leamington Spa. This Talash Hotels Group own and operate a collection of 10 individual character hotels across the UK.
· Steven Miller, Managing Director of The Workplace Depot, based in Nottingham. The Workplace Depot is a UK supplier of workplace products and manufacturer of mobile safety steps.
· Josh Rathour, CEO and Founder of UNiDAYS, based in Nottingham. UNiDAYS is the world's leading Student Affinity Network, connecting a verified student audience with relevant brands and services all over the world.
Scale-up
· Kamal Basra, Managing Director of Bodyguard Workwear Ltd, based in Birmingham. Bodyguard Workwear Ltd is a manufacturer, innovator and designer of personal protective clothing and equipment for use in high risk construction sector.
· Nicola Fleet-Milne, CEO and Ben Evans, Managing Director of FleetMilne Property, based in Birmingham. FleetMilne Property is a full service residential property lettings, management and sales agency specialising in the luxury apartment market in central Birmingham.
· Vish Jain, Managing Director of Winner Recruitment Ltd, based in Birmingham. Winner Recruitment Ltd offers temporary and permanent recruitment consulting focused on driving and warehousing.
Transformational Leader
· Paul Thandi, CEO of NEC Group, based in Birmingham. The NEC Group is one of the world's top venue management companies, operating the NEC, ICC, Genting Arena, Barclaycard Arena and the Vox Conference Centre.
· Colin McCarthy, Managing Director of Panther, based in Northamptonshire. Panther is one of the UK's leading suppliers of nationwide 2-Man and 1-Man Assisted 'White Glove' Home Delivery Services.
· Paul Cox, Managing Director of Reconomy UK Limited, based in Telford. Reconomy UK Limited is a tech enabled provider of outsourced waste management services to the house builder, construction, infrastructure & commercial sectors across the UK.
· Christopher Truman, Managing Director of SYSPAL Limited, based in Telford. SYSPAL Ltd is a market leader in the innovation, design and manufacture of aluminum and stainless steel equipment for hygiene and quality orientated industries.