New yoga and meditation centre for Lincoln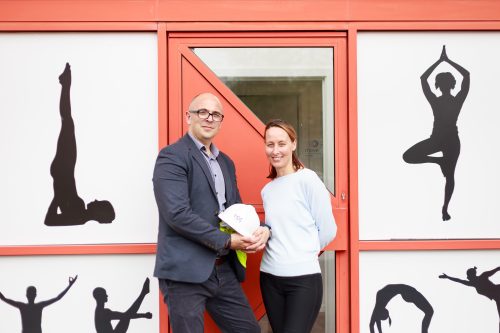 A new yoga and wellness centre on Crofton Road in the Allenby Business Village in Lincoln has opened.
Central Wellness, which offers yoga, pilates, mindfulness, meditation and wellbeing treatments, as well as clinical hypnotherapy, physio and reflexology services and massage therapists, is the first centre of its kind in Lincoln.
The centre, which has brought four new jobs to the city, is made up of an open plan studio and treatment rooms and since its recent opening, the centre has already welcomed over 150 'yogis' each week, showing a clear demand for yoga and mindfulness in the city.
Central Wellness is owned and run by yoga teacher Grace Bowker from Reepham. This is Grace's first yoga and wellness centre, having previously rented spaces in and around the city.
LGG Projects, which provides integrated services within the property and construction sector, tailored the fit-out to the 120 sq metre unit to provide a suitable environment for yoga and meditation classes on the first floor and a reception area and small retail space with two treatment rooms on the ground floor.
Director of LGG Projects, Paul Jakuc, said: "When Grace came to us after struggling to find a construction company who could coordinate and complete the project for her on time, we were keen to get involved to provide this new facility for the local community which is already proving to be in much demand.
"This was an interesting project for us to work on and we are pleased to have delivered this on time in just four weeks and under budget. Our clients' requirements are a top priority for us. I'd like to wish Grace and her team all the best with this new venture."
Prior to her career in yoga and mindfulness, Grace worked in London in the advertising sector before moving abroad for a number of years where she became immersed in yoga.
Grace, who has been teaching yoga for over 12 years, said: "I am so excited to be able to open my doors to likeminded people and talented teachers and practitioners in the area, thanks to the support of LGG Projects.
"The centre is a vibrant yet calm place to be and it's fantastic to offer this sanctuary in the heart of Lincoln.
The centre, which holds regular day and evening classes seven days a week, has several complementary therapists working alongside its yoga and meditation teachers providing guest workshops in the city.