Derby partnership steps in to rescue collapsed 3aaa apprenticeship scheme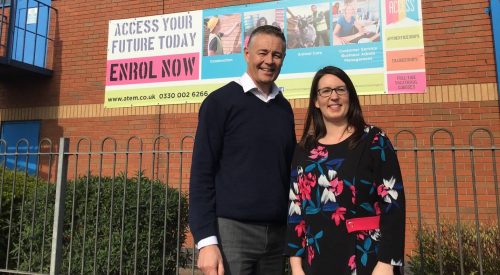 A new partnership says it will boost construction apprenticeships in the East Midlands following the collapse of 3aaa-backed National Construction Academy in Derby last year.
Access Training and Derby-based building firm, Hodgkinson Builders are expanding the Access Training Construction Academy to support a new generation of bricklayers in the city.
The academy will offer a range of construction apprenticeships – with a special focus on bricklaying – when it opens the doors to a new brick workshop on 26 April 2019. It has been co-sponsored by local builders' merchant Buildbase.
Ian Hodgkinson, director at Pride Park-based Hodgkinson Builders, sought to work with Access Training after the demise of the National Construction Academy (NCA).
Hodgkinson said: "We are very excited because we can continue to offer opportunities and grow the construction workers of the future."
Access Training has pledged to create 10 new apprenticeship vacancies in 10 days on the lead up to the opening, with Hodgkinson Builders offering two brand new apprenticeship positions ahead of the campaign.
Corrina Hembury, managing director of Access Training, said: "We are delighted to have forged this new partnership so together we can provide these exciting new bricklaying apprenticeships in Derby.
"We are really passionate about the construction sector and our new collaboration with Ian and Buildbase is a really positive move to allow us to expand."
Access Training has been offering training and apprenticeships throughout the Midlands for more than 30 years and is co-owned by two housing associations.
Hodgkinson hopes the Access Training Construction Academy will support his own ongoing passion for apprenticeships and fresh talent – with former NCA apprentice Nicholas Green among the new starters.
Green said: "When NCA closed, I didn't know what was next for me and I didn't know who to turn to or what direction to go in.
"I felt relieved to have been supported by Access Training and following their help and the opening of the new academy, I have secured an apprenticeship with Hodgkinson Builders, which is a great company and I will be hoping to set up a future career with them to become a successful bricklayer.
"I would like to thank Access Training, which is a welcoming and friendly environment. They explain what they want to do for you, and they are people who you can rely on. I would also like to thank Ian for believing in me and keeping these opportunities available for others."
Buildbase will be providing tools and equipment to the centre in support of developing young people and welcoming new talent into the construction sector.
Mick Mattison, regional sales director at Buildbase said: "This apprenticeship is great news for the local area and we're proud to support it. It's important to encourage the next generation that careers in building can be stimulating and rewarding. By supplying materials to the programme, the apprentices will get the valuable hands-on experience they need to get their careers off to a flying start."
The official opening of the Access Training Construction Academy will take place on Friday, April 26, from 1pm to 4pm.