Landmark luxury apartment scheme sold in £22m-plus deal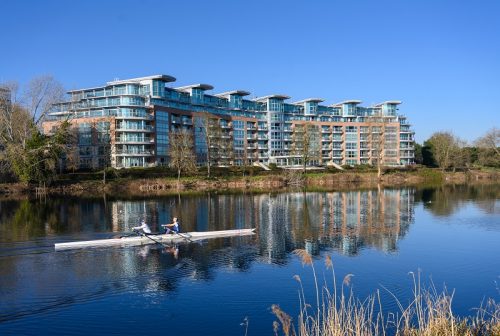 A luxury residential development on the banks of the River Trent has been sold in a deal worth at least £22m.
Riverside Crescent, which is made up of 129 apartments, has been sold by Crowngold Estates, in a deal brokered by property agents Allsop and Savills. The buyer is unknown.
Riverside Crescent has a chequered history. Sven Goran Erikkson famously made the development his home during his time as Notts County manager.
The scheme cost £50m to build but its owner, Riley Holdings, fell into administration before it was bought by Crowngold for £22m in 2014.
Crowngold was established by secretive London-based property tycoon Eliasz Englander in February 2014, who is behind investment firm The Englander Group.
Benjamin Cowen of Crowngold Estates said: "River Crescent is without a doubt the best residential building within a 100-mile radius, with hi-spec spacious apartments and excellent facilities which completed at the start of the financial crisis in 2008.
"Following our purchase in 2014 we were able to ensure that the building remained fully let, completed the fit out of and sold the penthouses, as well as a number of apartments in the block."