Fit-out specialist returns to region with blueprint for growth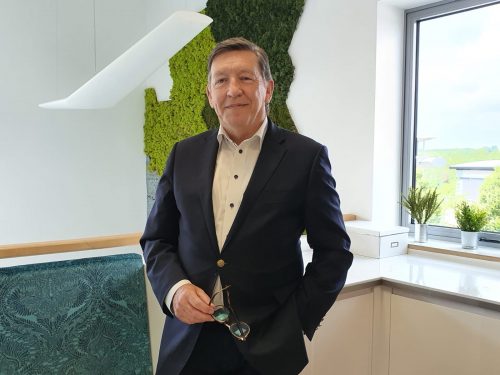 The newest face at Ashby-based fit-out firm Blueprint Interiors says his ambition for the company is to turn it into the go-to specialist for businesses looking to transform their workplace.
Mike Mckeown joined Blueprint seven weeks ago and returning to the East Midlands from London. He joins Rob Day, Chloe Sproston and Rachel Biddles on the management team.
Talking to TheBusinessDesk.com, McKeown said: "It's been an interesting few weeks. I really do believe that Rob and the team have built something special here. Blueprint should be bigger – I hope to help towards that."
McKeown was part of the team that turned the former Paragon Interiors into a fit-out powerhouse, before its rapid downfall early last year.
"When I was at Paragon, we saw Blueprint as this little company down the road that did furniture; we never really counted them as competition.
"So, when I joined Blueprint a few weeks ago, it was amazing to see this fantastic headquarters building, which is just so impressive."
McKeown sees lots of comparisons between Blueprint and where Paragon were when he, along with Alan Hardy, built the firm into a £100m turnover firm. However, in the end, he said that this vision was lost in the drive for more and more revenue.
"We had some great years together at Paragon and, at times, it was the most exciting place to be. However, as time went, the focus shifted to volume work rather than projects with good margins and that vision was lost."
McKeown left Paragon in 2017, before the firm hit trouble and eventually entered administration in March 2019.
He added: "Paragon's downfall was a perfect storm made up of several different elements," adding that he believed that the management team assembled after he left had let the company down badly.
As for the future, McKeown said: "I see Blueprint as being a leader in the sector – it should be a go-to company. To get there, it's all about having the right people and having them think: 'I want to be part of that team'."
"I believe I can be part of this evolution and play a part in taking Blueprint to the next platform.
"We're not going to concentrate on big turnover or staff numbers; it's about building things how they should be built."