Major Nottingham office sold in £7.6m deal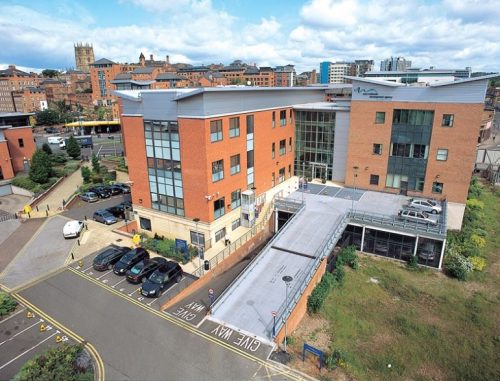 Savills, on behalf of DSL Group, has sold the long leasehold of Apex Court on City Link Road in the Island Business Quarter, Nottingham to Singapore-based private equity firm Elite Partners Capital for £7.6m.
The headquarters building comprises 38,816 sq ft of office space and 82 parking spaces. Apex Court is currently let in full to The Secretary of State for Housing and Local Government, generating an annual rental income of £595,712.
Victor Ktori, head of office at Savills Nottingham, said: "This is the latest in a string of high quality investment deals within the city, proving that confidence remains despite continued uncertainty. A lack of grade A stock in recent years has facilitated a sustained period of rental growth, making Nottingham an attractive and comparably cheaper location compared to nearby cities such as Birmingham. Apex Court provided the international investor with a fantastic opportunity to purchase a strong income generating asset with considerable covenant strength."
Jas Landa of DSL Group, adds: "Having successfully negotiated a lease renewal with the Secretary of State earlier this year, there was a cogent reason to bring Apex Court to the market at this time. Despite the challenges created by Covid-19, we are delighted to have concluded this sale so swiftly and commend Victor Ktori of Savills and Adam Youatt of Gateley Legal for their efforts. DSL Group looks forward to reinvesting in future opportunities, including into our substantial development programme."
Victor Song, CEO of Elite Partners Capital, said: "We are extremely pleased to secure a high quality development in one of the largest urban cities in the East Midlands. The UK continues to offer promising property investment opportunities with great potential returns, even in the midst of the Covid-19 outbreak. Apex Court is a valuable addition to our existing portfolio of commercial properties and logistics assets across the UK."
Elite Partners Capital was advised by ADS Real Estate Advisors.
Anthony Sidoli of ADS Real Estate Advisors, said: "We are delighted to represent our client Elite Partners Capital on the acquisition of Apex Court. The lease provides undoubted income secured to the UK government, underpinned by strong property fundamentals. It was a pleasure to work with all parties involved, while navigating the challenges of the lockdown."