Music school hits the right notes for growth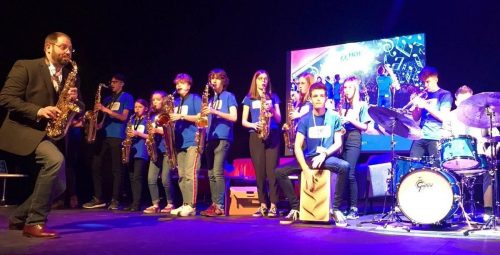 An East Midlands music school whose former pupils have gone on to work with chart-toppers Lewis Capaldi and Noel Gallagher, says it is looking forward to continued growth this year after a record-breaking 2020.
Hot House Music, a not-for-profit organisation founded in Derby in 2002, has schools across the UK – including Derby, Nottingham and Burton – with plans to open up branches in Singapore, Texas and Lyon over the next 12 months. As well as producing talented musicians, alumni include a heart surgeon and scientist who worked on the Oxford coronavirus vaccination.
Created by Jon Eno; the cousin of legendary music producer Brian Eno, who worked with the late David Bowie and U2, Hot House Music grew by 17.5% in 2020 as more and more people chose to learn music or take up singing lessons virtually during the pandemic.
Eno, who comes from a background of music and education and went to Ripley Mill Hill School in Derbyshire, praised the way in which his staff worked around the clock to move all of their lessons online in just 72 hours and believes that, because of this, lessons are now more accessible.
He said: "Music is so important, especially at the moment when things are really uncertain. It allows you to feel good inside while giving you a boost of confidence.
"Our aim is to help budding musicians to become more confident and resilient through an engaging and creative outlet. We encourage them to be part of a family which supports progression, creativity and fun.
"I'm really grateful for technology, which has allowed us to continue to provide lessons to our pupils across the country. We've worked hard on ensuring that our content is accessible for everyone, including those with special needs, who find music therapeutic.
"We have exciting plans already in place to work with the University of Leicester on developing artificially-intelligent music teachers for schools. We're currently looking into funding for this, which we believe has huge potential to change not only music education but the education system across the world.
"Of course, I miss the face-to-face lessons and performances. You can't beat that kind of interaction and I can't wait to see my pupils 'in person' but the technology which we have available to us in 2021 is incredible."
As well as expanding his music schools – Hot House Music currently have 6,000 pupils on their books – Eno is well along the road to launching SoulTV; an exciting subscription-only television channel with an emphasis on creating feel-good content.
orking with Chloe Maudsley from Derbyshire Institute of Sport, Jon says that SoulTV will be "like Netflix but with feel-good content on there, which is focussed around music, sport and food".
Eno is also putting together an ensemble of youngsters who will entertain sports fans at next year's Commonwealth Games in Birmingham.
He said: "We had a group who should have been performing at the Olympics in 2020 but that was cancelled due to the pandemic.
"Another group have recently had their tour to Disneyland cancelled but we're optimistic that they will be able to perform at the Commonwealth Games next year, which will be great for them. They're currently learning to play modern classics by artists such as Dua Lipa. These are exciting times."