Playhouse receives £320,000 grant to help bring curtain up on new productions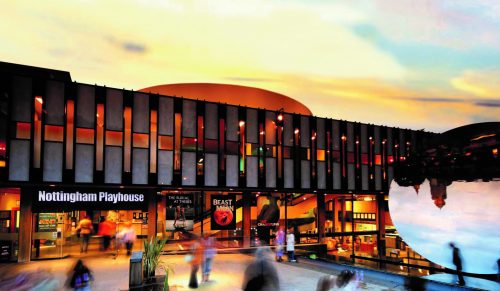 Nottingham Playhouse is among 2,700 venues being offered almost £400m in grants and loans to help keep the struggling arts sector afloat.
Culture Secretary Oliver Dowden has announced details of over 2,700 organisations being offered the cash to help the culture and heritage sector reopen and recover.
The Playhouse has received a grant of £319,238 from the Government's £1.57bn Culture Recovery Fund (CRF).
Support from the CRF will allow Nottingham Playhouse to fully reopen for productions, to support local creatives and freelancers and to welcome its community back either in person or on-line
Stephanie Sirr, chief executive at Nottingham Playhouse, said: "We are very grateful to have received £319,238 from Arts Council England to reopen. We have already made plans to keep producing new work and hire local and national creative artists through our Spring Loaded season of live and digital events.
"We also cannot wait to welcome audiences back to the theatre for Adam Penford's long-awaited Piaf in July. Nottingham Playhouse earns over 70% of its income in normal times and this has been the most difficult 12 months in our 70 year history. However, it is now an exciting and promising time and we thank ACE as well as the kind generosity of audiences, donors, funders and sponsors for saving us."
Meanwhile, ten local cinemas in region (listed below) have been awarded £715,745 from this round of the fund including the Loewen in Sutton on Sea, which will receive £14,326 to help with reopening. This grant will enable the cinema to continue its work with the community, offering events for disabled and elderly visitors, as well as family films and local schools.
Forum, Northampton
Northampton Leisure Trust
£       25,683
Kinema in the Woods, Woodhall Spa
Kinema in The Woods Ltd
£     111,235
Loewen, Sutton on Sea
Loewen Cinema
£       14,326
Northern Light, Wirksworth
The Northern Light Cinema
£       10,802
Piccadilly Cinema, Leicester
Piccadilly Cinemas Ltd
£         1,602
Savoy, Corby
Savoy Cinemas Corby Ltd
£     269,614
Savoy, Boston
Savoy Cinemas (Boston) Ltd
£       70,621
Savoy, Grantham
Savoy Cinemas (Boston) Ltd
£       70,621
Savoy, Nottingham
Savoy Cinemas (Boston) Ltd
£       70,621
Savoy, Worksop
Savoy Cinemas (Boston) Ltd
£       70,621
Elsewhere, Glastonbury Festival will receive £900,000 to help the festival continue in 2021, with two smaller events this year, as well as to carry the festival through to 2022.
Culture Secretary, Oliver Dowden, said: "Our record breaking Culture Recovery Fund has already helped thousands of culture and heritage organisations across the country survive the biggest crisis they've ever faced.
"Now we're staying by their side as they prepare to welcome the public back through their doors – helping our cultural gems plan for reopening and thrive in the better times ahead."
Dame Judi Dench, Oscar® award-winning actor (Shakespeare in Love, Philomena, Mrs Brown, Skyfall), a patron of the Phoenix East Finchley and the Theatre by the Lake which hosts the Keswick Film Festival and a BFI Fellow said: "Local cinemas are a vital part of our cultural lives, enthralling us with films about lives that we recognise as well as offering us stories about other cultures from around the world. They are places where people come together for a shared experience and have inspired many to make their careers on screen. We need to make sure that generations today and in the future have the same opportunities to enjoy and take part in the communal big screen experience."