286-year-old company unveils multimillion-pound 'HQ of the future'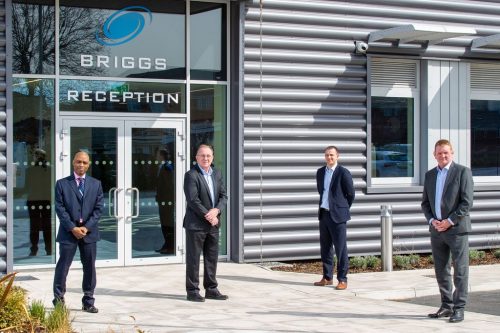 An engineering firm which employs 200 people in Burton has made a multimillion-pound investment in its headquarters building.
Briggs of Burton, which is based in Derby Street, says it has doubled its turnover to post best yearly performance to date, and has transformed its Midlands headquarters into a Global Technical Centre.
Briggs attributes much of the growth down to its work in the brewing and distilling industries and also advances into the growing food and pharmaceutical sectors.
The company, which has a long history with Burton on Trent's brewing heritage, has offices in the USA and China.
Robert Buxton, managing director, said: "It was the right time to invest and create the headquarters of the future, empowering our employees to deliver world-class sustainable solutions for our clients across all of our sectors. Our team pride themselves on Health & Safety and Quality, and these underpin everything we do. Our ultimate goal is creating an environment to grow our team and nurture the next generation of innovative engineers."
Focusing on environmental and wellbeing benefits, the site has not only created additional office space, break out areas and conference suites but also planted many hundreds of trees and shrubs, together with over an acre of wildflower and grassland into the surrounding landscape.
New shower and changing facilities mean staff can take advantage of the site's close proximity to the train station and encourage the use of public transport or cycle to work where possible.
Buxton said: "Briggs of Burton PLC has longstanding connections with the town and so it is only fitting that the development of our Global Technical Centre should be here in the heart of the Brewing capital and where it all began.
"We have been leading solutions across a number of new industries while maintaining strong links to our heritage. Over our long history, innovation and commitment to growing the engineers of the future has been key to our success.
"Our growth in areas such as pharmaceuticals and biofuel have been born from a passion and desire to offer market leading technologies to major blue chip companies across the entire production process and across all the sectors in which we operate. Briggs of Burton are leading exciting new projects and developing engineering solutions, which focus on carbon neutrality and sustainable manufacturing processes. We are extremely proud to continue manufacturing in Britain, and Burton on Trent as we have done since starting in 1732."
Briggs of Burton last year acquired Scottish copper still equipment manufacturer McMillan (Coppersmiths & Fabricators), based in Prestonpans just outside Edinburgh.
Specialising in traditional handcrafted Scottish copper pot stills for the Distilling industry and over 150 years' experience further cement Briggs' standing in the industry.
Advancements in hygienic process engineering has also seen Briggs specialising in pharmaceutical projects including the design, build and installation of market leading inhalant manufacturing systems across Western Europe and North America for some of the biggest pharmaceutical companies in the world.
Marking the launch of the new Global Technical Centre, George Crombie, engineering director said it was a momentous day for the company.
He added: "For Briggs this is the start of a new chapter and a catalyst for our ongoing growth to ensure we continue to 'deliver what we promise' to our customers and offer the most sustainable engineering solutions assisting them to move towards carbon neutrality. It is an exciting time at Briggs, and we are looking forward to our future" he said.
"We are proud to be not only investing in the town where it all began but also in our employees – the people who make Briggs what it is today."
Briggs of Burton was originally formed over 285 years ago specialising in brewing equipment and engineering and is known worldwide for its brewing and distilling capabilities. Started by Samuel Briggs in 1884 after he acquired Thornewill & Wareham, Briggs of Burton's history can be traced back to 1732.
Today the company, which employs over 200 staff across four sites including Burton on Trent, Prestonpans, Rochester, New York, and Shanghai, provides process engineering solutions for leading companies across the world covering North America, Europe, Central America, Africa, Australia, Japan, and China.