Join us today for Invest Midlands 2022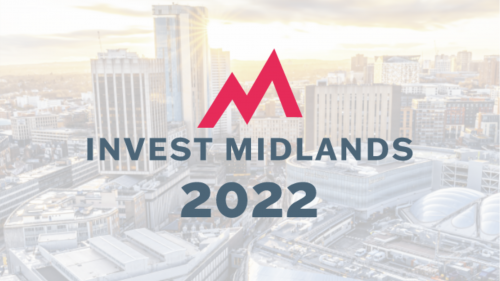 Some of the biggest names from across the Midlands business world are set to come together today (March 25) for TheBusinessDesk.com's Invest Midlands 2022 online conference.
Tickets for this landmark event, which will showcase transformational and disruptive ideas, provide analysis, insight and a major platform to debate the key issues impacting the region's economy, are still available.
The day kicks off at 9.15am with our Place pillar and The Future of the Cities, a session which looks at the changing face of Midlands cities and how the pandemic has made room for a real debate about how we want to shape our them for the next generation. Speaking at this session will be: Sajeeda Rose, Corporate Director for Growth & City Development, Nottingham City Council; Anthony Breach, Senior Analyst, Centre for Cities; and Tom
Sumpster, Head of Private Markets, Phoenix Group.
At 10am, we'll look at the state of the transport sector in the region in: A connected super-region: infrastructure investment to transform the region. Our speakers are: Maria Machancoses, Midlands Engine; Lorna Pimlott, Phase 2 Sponsorship Director, HS2; and Kevin Whitmore, Director, Head of North & Midlands, BECG.
Ian MacLeod, Director for Planning, Transport & Sustainability at Birmingham City Council will be answering questions on the The Commonwealth Games' regeneration legacy at 10.30am, while at 10.55am we'll be taking a look at how Proptech is powering Midlands development with: Nick Gibb, Deputy MD, Willmott Dixon; John Holley, Investment Director, Watkin Jones; and Tom Huffsmith, Project Manager, Conygar.
The Funding and Investment sessions start at 10.30am with a session called Funding and investing in the Midlands' fast-growth companies, featuring Ardian Mula, Chief Executive Officer, FoodHub; Ben
Dorks, CEO, Ideagen; Paul Faulkner, Chief of Staff, RCL Associates; and Dr Sophie Dale-Black, Midlands UK Network Director, British Business Bank.
At 11.05am, you'll be able to hear an exclusive Q&A with funder Mercia, and then an interview with 200 Degrees co-founder Rob Darby on how he attracted investment for his fast-growing company.
The War for Talent pillar starts at midday with a look into the future with a session called The post-pandemic workforce… and the jobs we can't imagine. Discussing how the pandemic has altered office life forever will be Rob Groves, Regional Development Director, MEPC; Faye Summers, HR Director, UK Flooring Direct; and Habiba Khatoon, Director, Robert Walters.
The popularity of Employee Ownership Trusts will be debated at 12.45am as part of a session called Skin in the game – the rise of EOTs. Debating this topic will be Dave Hodgetts, CEO, Talbots Law; Barry Aldridge, Marketing Manager, Flotec Industrial; Tom McCarthy, Partner, Orbis Partners; and Oli Smith, Head of Membership, Employee Ownership Association.
The Innovation pillar is kicked off at 1pm with a keynote speech from Abbie Vlahakis, CEO of Millennium Point.
Then, at 1.10pm, we look towards A Sustainable Future and the drive towards net zero. Speakers on this session are: Charmaine Morrell, Head of Sustainability, Nottingham Trent Uni; Becky Valentine, Co-Owner, Spenbeck, Natalie Gasson-McKinley, Development Manager, Nottinghamshire & Derbyshire, FSB; Lance Hill, MD, Eight Days a Week Print Solutions; and Andy Williams, Director of Business, Investment & Culture, Coventry City Council.
We'll debate the importance of the life sciences sector to the East Midlands at 1.55pm, in the esteemed company of Dr Nik Kotecha OBE, Founder and Chairman of Morningside Pharmaceuticals; Dr Tom Burr, Chief Scientific Officer, SourceBio International; Ralph Weir, CEO, Zayndu; Jane Theaker, CEO, PBD Biotech; and Professor Gino Martini, Managing Director, Precision Health Technology Accelerator (PHTA) for University of Birmingham and Birmingham Health Partners.
The last pillar of the day is International, which starts off at 2.40pm with Going global: Exporting the Midlands in a post-Brexit world. Our panel of experts includes: Guy McEvoy, CEO & Founder, GuyKat; Shehzad Chaudhary, Midlands Deputy Director, DIT; Will Bown, Director, SuperFOIL Insulation; and Laura Clarke, Director, Chilwell Products.
Our final session of the day is Inward investment: How the Midlands wins the FDI race. This session begins at 3.20pm and features the vastly experienced duo of: Kevin Harris, Chair, Leicester & Leicestershire Local Enterprise Partnership and Anita Bhalla, Interim Chair, GBSLEP.
The full-day conference will be packed with insight, analysis and original research that will make it an inspiring and informative event that can't be missed by anyone investing, working or innovating in the Midlands.
To grab your tickets for this not-to-be-missed event, please click here.