Drug discovery firms join forces in latest Sygnature acquisition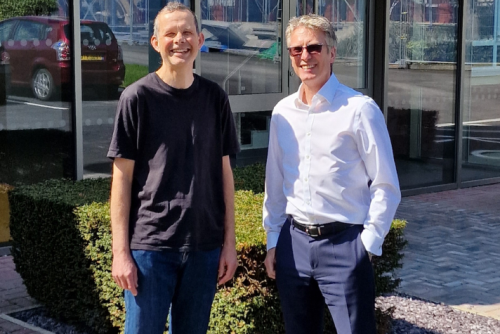 Peak Protein has been bought by Sygnature Discovery for an undisclosed sum, the fourth acquisition it has made in the past four years, and the first since Five Arrows Principal Investments made a significant equity investment in the company in 2021.
Both Nottingham-based Sygnature and Peak, located in Macclesfield, are drug discovery specialists.
The buyout follows an extensive partnership between the two companies, and will enable seamless integration of protein production and related structure determination projects within Sygnature.
Peak Proteins was set up in 2014 by scientists previously from AstraZeneca's protein biochemistry and structural biology groups. Sygnature invested in Peak in 2016.
Spearheaded by CEO, Mark Abbott, the company now employs 35 people, most of whom are scientists. Peak Proteins will continue to operate out of its new research facility in Macclesfield, near Sygnature's Alderley Edge site. The Peak Proteins leadership team will also remain with the business.
The acquisition will expand the scope of Sygnature's in-house drug development capabilities. Peak Proteins has collaborated closely with Sygnature for several years and together the companies have supported a number of integrated drug discovery programmes.
The acquisition is part of Sygnature's strategic plan to continuously invest in the expansion of its drug discovery capabilities.
Steve Young, Sygnature VP of business development, said: "The Peak Proteins expertise will sit perfectly alongside our HTS and extensive biophysics capabilities. Their world class expertise in protein crystallography will enhance our fragment screening and analysis activities, as well as our structure-based drug design work."
Mark Abbott, CEO of Peak Proteins, said: "We have always valued Sygnature Discovery's support and are now really pleased to be joining them. It will enable us to work more closely on integrated projects in addition to our existing client base where we provide both proteins and protein structural information on a very wide range of proteins to clients across the world."
Sygnature's CEO, Simon Hirst, said: "Accessing high quality proteins efficiently is often a major stumbling for projects and protein structural information is still the gold standard when it comes to drug design. The closer integration of Peak Proteins into our projects will be extremely powerful in driving programmes forward."
Sygnature has been private equity-backed since 2017. It operates research facilities in Nottingham and Alderley Park, housing more than 400 research scientists, and has an office presence in Cambridge, Massachusetts, and South San Francisco, in the US.
Since 2011, 37 compounds discovered by Sygnature for customers have entered pre-clinical development and, so far, 20 of these have progressed to clinical trials. In 2017, it received the Queen's Award for Enterprise for International Trade.
Peak Proteins was founded in 2014 by Dr Mark Abbott and is based in recently acquired purpose-built research facilities at Tytherington Business Park. The company employs 35 staff, most of whom have years of drug discovery experience and in-depth scientific knowledge needed to produce bespoke protein reagents suitable for use in a wide variety of applications.