Melton firm completes vital rail freight decarbonisation project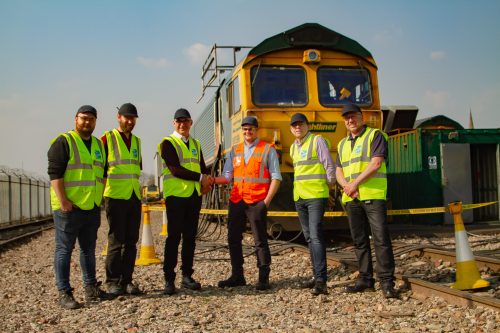 Melton-based sustainability business Clean Air Power has completed a government-backed project to help cut rail freight diesel usage.
The Leicestershire firm partnered with Freightliner to demonstrate a Class 66 locomotive run on a combination of diesel, biogas and hydrogen – the first time this technology has been applied to the rail freight sector.
The success of the nine-month initiative will pave the way for the decarbonisation of other Class 66 locomotives, which carry over 80 percent of the freight on the rail network.
Clean Air Power secured almost £400,000 to fund the project after being chosen as a winner of the 2021 First of a Kind (FOAK) competition, which is backed by the Department for Transport in partnership with Innovate UK.
RSSB, Carrickarory, the Birmingham Centre for Railway Research and Education at the University of Birmingham, Network Rail and Tarmac also supported the initiative.
Dan Skelton, managing director at Clean Air Power, said: "Our team and project partners have worked brilliantly alongside one another to deliver a low-carbon, low-emission, hydrogen-friendly Class 66 locomotive.
"Despite the complexities and challenges involved, we have clearly demonstrated we can successfully offer a route to viable, long-term decarbonisation freight rail and its associated cost benefits. We're very proud to have transferred our know-how and expertise to this new and exciting market and are looking forward to taking on similar projects in the future."
Blake Jones, managing director of Rail Services at Freightliner, said: "Freightliner is delighted to have worked with industry partners on this important project –  demonstrating the important role that hydrogen could play in supporting the transition to net zero greenhouse gas emission.
"While rail freight remains the most environmentally friendly mode of transporting freight around the UK, the FOAK competition helps drive even greater innovation and industry collaboration, to deliver further sustainability improvements. The electrification of the network is expected to be the principle means for rail freight to decarbonise; however, alternative technologies and fuels, such as hydrogen, will be necessary for parts of the rail network that remain non-electrified."
Network Rail's head of strategic planning Richard Moody added: "This is a crucial step in demonstrating that alternative technologies could help to reduce carbon emissions from rail freight which will support the transition to net-zero emissions by 2050.''