Round table report: Rainmakers riding the M&A rollercoaster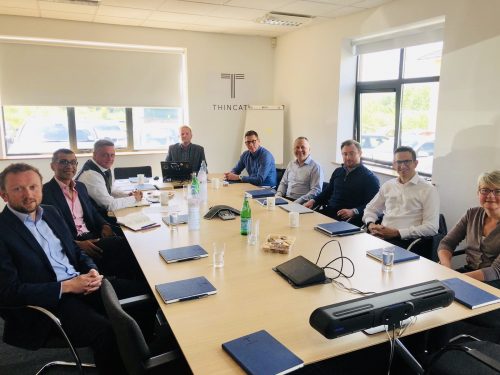 The last two years of the mergers and acquisitions (M&A) market has been a "rollercoaster", but it remains a good place to be in – that was the message from our panel at the first of our Rainmakers series of round table events.
The first gathering of deals professionals and business owners took place at the offices of ThinCats in Ashby de la Zouch, Leicestershire. Further events will be held over the course of the next nine months across the East and West Midlands.
Jeremy Harrison, M&A partner, corporate finance, at advisory giant EY, said: "It's certainly been a rollercoaster over the last couple of years or so. Coming out of 2019, and with a Brexit hangover, there was a certain drag on M&A markets. However, we went into 2020 with a real degree of optimism – then came the pandemic and everything went on hold.
"There then followed a lot of naval gazing about what would happen next.
"However, from mid-2020 onwards, the M&A markets caught fire – helped by the Chancellor. Since then there's been quite a polarisation between sectors that have done well, such as those involved in digitisation – and those that have found the going tougher; aerospace and automotive, for example."
Ragi Singh, partner at Gowling WLG, added: "From June 2020 onwards, the professional services market boomed. We saw a 50% growth in deals done – and a growth in value of those deals.
"As a business, we have done even more work in the Midlands – contributing to the region being the most active in the M&A market outside of London. However, no-one really knows how the war in Europe and inflationary pressures will affect the M&A markets – uncertainty is the new certainty."
For Andy Cocker, director of regional business development, South Yorkshire and the East Midlands at ThinCats, the last couple of years had been "phenomenal".
He added: "Last year we lent £320m – it just goes to show how strong the market has been. Our pipeline is stronger than ever, and it feels good to be in this space – that's never gone away, despite the pandemic. There is a lot of competition out there, but we're feeling confident. We're expecting plenty of activity; there's so much cash out there – and people need to deploy it."
A full transcript of the round table will follow next week.