Rainmakers round table: Optimism abounds as deals market powers on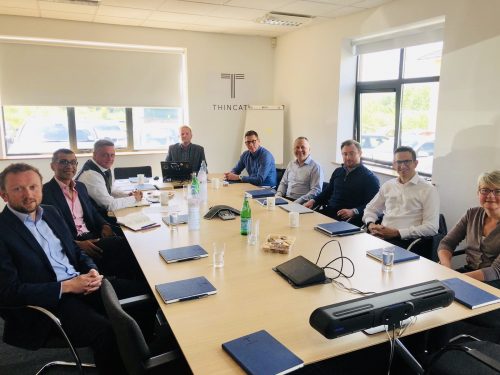 TheBusinessDesk.com's Rainmakers series of events has kicked off, with our first round table session taking place at the offices in alternative lender ThinCats.
Our panel debated the Midlands M&A markets, the challenges and opportunities facing those looking to buy or sell a business – and where the deals sector is headed after a tumultuous two years.
Here's what they had to say…
On the deals market over the last two years
Jeremy Harrison, EY: "It's certainly been a rollercoaster over the last couple of years or so. Coming out of 2019, and with a Brexit hangover, there had been a drag on M&A markets. However, we went into 2020 with a real degree of optimism – then came the pandemic and most deals went on hold as investors and business owners dealt with immediate, pressing impact of Covid on their portfolios and operations.
"There then followed a lot of naval gazing about what would happen next.
"However, from mid-2020 onwards, the M&A markets caught fire – helped by rumoured increases in capital gains tax in the forthcoming 2021 budget. Since then there's been quite a polarisation between sectors that have done well, such as those involved in digitisation, tech, e-commerce and healthcare, – and those that have found the going tougher; aerospace and automotive, for example."
Ragi Singh, Gowling WLG: "From June 2020 onwards, the professional services market boomed. We saw a 50% growth in deals done – and a material growth in value of those deals.
"As a business, we have done even more work in the Midlands – contributing to the region being the most active M&A market outside of London."
Andy Cocker, ThinCats: "Last year ThinCats lent £320m – it just goes to show how strong the market has been. Our pipeline is stronger than ever, and it feels good to be in this space – that's never gone away, despite the pandemic. There is a lot of competition out there, but we're feeling confident. We're expecting plenty of activity; there's so much capital out there – and people still need to deploy it."
On selling or buying a business during the pandemic
Adrian Buttress, PermaGroup: I gave myself three years to build the business up before entering the sale process. The impact of Brexit, combined with Covid-19, meant that the process was slower than usual, but I was very happy with the end result. In fact, we even celebrated our two most successful years on record during the pandemic years of 2020 and 2021 – so despite the challenges faced across the industry, PermaGroup has excelled.
Andrew Springhall, serial entrepreneur: Unless you had a crystal ball about the pandemic, the war in Europe and the rise in inflation you would not bring forward your retirement. However, it seems to me that many people are thinking about selling as they simply don't want to go through all that again.
On the standout deals over the last 12 months
Singh: Particular highlights were the £6.3bn acquisition by Parker-Hannifin of Meggitt and the Dr Martens IPO. But we've also seen large deals across a range of sectors involving firms such as Clinigen, Stagecoach and St Modwen.
Cocker: I think that activity will continue. Every year since the crash in 2008 we've been told that there's something coming down the line that will impact the deals market – it's never really happened.
Harrison: But money has been very cheap over the last few years. If there is a recession on the horizon, I think it will be shallow and short. I'm an optimistic person; I think that with all the capital that's been raised we might also get a second wind of valuation uplifts for the best assets in attractive sectors.
On the right time to buy or sell a business
Springhall: The key is to be sensible. In most cases – unless you're in your 30s or 40s, you're talking about cutting off your future supply of income so the price you're going to be looking for is always going to be at the top end of your range. So, your business has to be in tip-top condition.
Buttress: We spent a lot of time grooming our business, but for me it was a case of "as soon as there's enough money in the pot" then I knew it was time to sell.
Springhall: You also always need to leave enough of a business behind for people to take it forward.
On where the market is going over the next 12 months
Cocker: There are certainly headwinds coming; with the larger deals there might be something of a pause for those who want to see how the headwinds play out. However, the reasons why people still want to buy or sell a business won't go away. I'm expecting plenty of activity as private equity firms still have plenty of capital – it needs deploying.
Singh: "No-one really knows how the war in Europe and inflationary pressures will affect the M&A markets – uncertainty is the new certainty."
Harrison: I think deals will take a little bit longer to complete, but I'm reasonably optimistic; there is a decent level of deal flow, but I believe buyers will be more cautious and undertake more due diligence."
We'll have more from our other panellists over coming days.