Nottingham Venues set to explore further campus opportunities after year of growth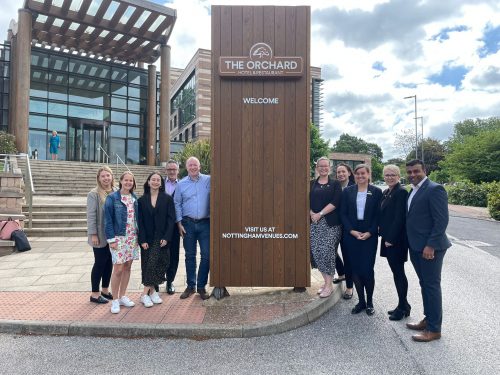 The company behind a collection of venues located across the University of Nottingham's campuses has said it is close to pre-Covid levels of business after a year of growth.
Nottingham Venues, which includes the Orchard Hotel, the Jubilee Hotel & Conferences, Hugh Stewart Manor House, Campus Venues (formally known as Nottingham Conferences) and East Midlands Conference Centre, underwent a rebrand earlier this year. The BREEAM Excellent Orchard Hotel split from the De Vere group and the company now employs around 250 people.
The company was hit, like virtually every other, by the Covid outbreak, but general manager Tom Waldron-Lynch and his team adapted and the company's venues were used as lateral flow test centres, while it also provided a "food-to-room' service for students who stayed on campus.
The venues fully re-opened in October last year and pent-up demand saw a busy end to 2021 – a pace which has been maintained ever since.
Waldron-Lynch said: "Independence has meant we could focus on who we are and where we are
"In many ways, we've over-achieved – which has put pressure on us, but it's pressure we welcome. Supply chain challenges remain and costs have risen by over 10% because of an extended payroll, energy and food price rises."
Waldron-Lynch's team are vitally important to him. Working with director of marketing, Stephanie Moss-Pearce, he has introduced schemes such as Employee of the Month, staff away days and other social activities. Nottingham Venues has also committed to paying the new Living Wage of £10.90 an hour. The company also recently appointed Suzie Adams as its new HR director.
Waldron-Lynch added: "We believe the next 12 months will be a year of consolidation, but we're have investment plans to make use of more buildings on the campus which will open up more commercial opportunities."