Sales approach £10m at family-owned manufacturing group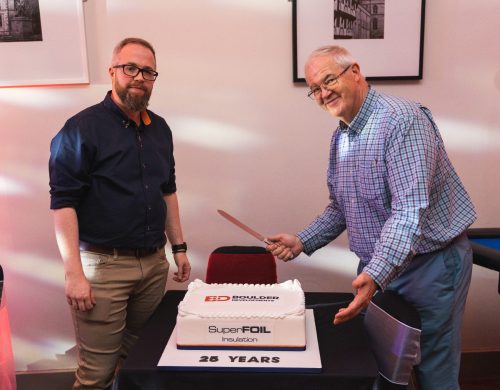 The manufacturing group behind insulation, flooring and ventilation brands SuperFoil, Treefloor and Ventilation Megastore has seen its profits jump by 30% in time for its 25th anniversary.
Boulder Developments was established in 1997 by Craig and Alison Bown. The company employs 46 people at its Lincolnshire base and recently signed a series of supply deals with big-name retailers including Wickes, Aldi and Travis Perkins.
Sales across the family firm's brands exceeded £9.5m last year – a significant improvement on the previous year's performance driven by an uptick in demand for cost-effective, high-performance insulation.
To put the Boulder's growth in perspective, SuperFOIL managing director William Bown was responsible for a team of just eight people when he took over the reins from his parents in 2017.
The business has since become the largest brand in Boulder's portfolio.
Bown said: "I can't believe that we're celebrating 25 years of Boulder Developments – it feels like time has flown by since my Dad formed the business on the back of his own self-build house project.
"We've grown from strength to strength, and we've just had our best year ever. I can't wait to see how far we can go across these three businesses."
Craig Bown added: "The journey our business has been on has just been phenomenal in the last 25 years. From starting up working at our home, to then outgrowing several different premises, we've seen some rapid growth.
"We have such an excellent team of hardworking individuals that has helped to contribute to our success, which my son Will oversees on a day-to-day basis as managing director."