City council fails in second bid for £20m Broadmarsh cash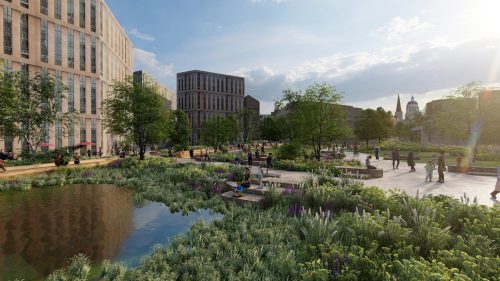 Nottingham City Council has again failed to secure cash from the Government's Levelling Up fund for three major schemes across the city.
The council has now made two bids for £20m to transform the former Broadmarsh shopping centre – both being rebuffed.
It has also been denied for a second time for a bid of £18m to push forward work on the huge Island Quarter site and £20m to redevelop Bulwell town centre.
Robert Ware, chief executive of the Conygar, which owns the Island Quarter site, told the Local Democracy Reporting Service: "We have received notice that Nottingham City Council's bid for the latest round of Levelling Up Funding has been turned down by the government.
"The funding would have acted as a catalyst to accelerate the regeneration of the heritage warehouses on The Island Quarter site, and we share the city council's disappointment in the result.
"Despite this decision, we continue to be committed to the regeneration of The Island Quarter and its reconnecting these iconic warehouses with the city and surrounding areas by bringing them back into community use."
The bid for the Broadmarsh would have helped moved forward ambitious plans for the area, drawn up by urban designer Thomas Heatherwick. His vision was for 750 homes, an art hotel and a business quarter which would have created up to 6,000 jobs.
Leader of the council, David Mellen, said: "All three Nottingham bids were very strong and clearly aligned to what the Levelling Up Fund is meant to be about.
"So it's clearly a big disappointment that all of them have been turned down for Levelling Up funding, which Nottingham so clearly needs.
"Work on the Green Heart, which was a key element of the vision and something many people wanted to see, will still get underway this year using national funding we have already secured.
"We will continue our public realm improvements in the area, which are also funded from a different Government pot, as well as completing the fit-out of the new Central Library later this year.
"Anyone visiting the area today can see that a huge transformation has already taken place and with more to come – especially the Green Heart which I think is going to be a hugely exciting, popular and welcome addition to our city centre. There's still a lot to be positive about.
"The Levelling Up bid was for work to retain and re-use the Frame of the old shopping centre which is just one aspect of a wider vision for the whole site. It is still an element we want to include and we will explore alternative public and private funding options so that the whole vision can be realised."